Aorus B660M Pro AX DDR4 Edition Micro ATX Motherboard Review
Aorus B660M Pro AX DDR4 Edition Micro ATX Motherboard Review
Author:

Dennis Garcia
Published:
Monday, June 20, 2022

Conclusion
When Alder Lake launched, I was exposed to a number of recommendations from memory makers that when comparing performance between DDR5 and DDR4 that it was important to make sure that the size and rank configuration be the same. This is a good practice to follow if you want to ensure a proper comparison. Though what caught me off guard is that there were socket LGA 1700 motherboards that supported DDR4 memory.
In this review we looked at the B660M Aorus Pro AX DDR4 Motherboard from Aorus Gaming (from Gigabyte). This board is built on the Intel B660 chipset supporting the new LGA 1700 Alder Lake line of processors. As many of you may already know., the new processor features a hybrid core design with Efficiency and Performance cores. This separation plays a major role in power efficiency while also allowing the processor to quickly ramp up and respond to different loading conditions with ease.
The processor also supports exciting new features including PCI Express 5.0, DDR5 which has created a new milestone for the computer hardware enthusiast and is where this particular motherboard fits into the formula.
This Aorus B660M Pro AX comes with support for DDR4 memory allowing hardware enthusiasts and system builders the option to use existing DDR4 memory while still taking advantage of the hardware features of the B660 chipset and LGA 1700 processors. From a performance standpoint the DDR4 and DDR5 motherboard versions are virtually identical and what differences there are will have little effect on overall system performance.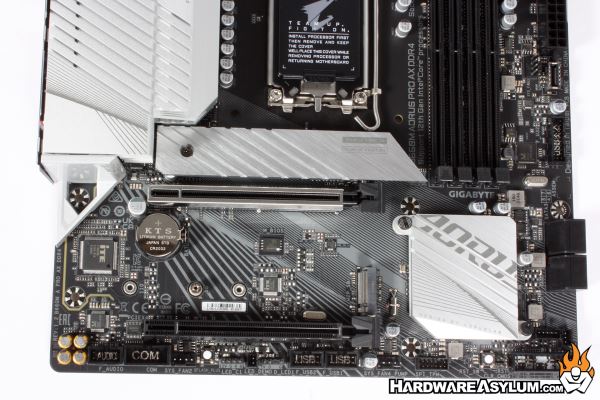 Speaking of performance, this review marks one of the first that I have published without performance benchmark numbers. I did this for a couple of reasons.
First: The B660 chipset doesn't support overclocking making the B edition motherboards perfect for system builders on a budget when overclocking is not a requirement. You can still run K edition processors for extra performance but, you will be locked in at the top multiplier.


Second: The performance between Z690 and B660 is virtually identical and this is a great quality to have in a performance motherboard.
Together I felt it would be more advantageous to provide my review and let you, the reader, check out some of my other articles if you are curious about actual performance numbers.
Overall, the B660M Aorus Pro AX DDR4 is a motherboard to fit a purpose. The B660 chipset is designed to be a lower cost solution for socket LGA 1700 processors and, as a result, the motherboard maker has an opportunity to build a motherboard that can deliver the same basic performance while also shaving significant costs at both ends. For the gamer and hardware enthusiast this means you can build a cheaper system and reallocate some money for a faster processor or better video card.
The Micro ATX form factor has become quite rare in this modern world and is the perfect platform for the Intel "B" series. On the Aorus B660M Pro AX you will only get two M.2 drive slots and support for up to four SATA drives. The smaller form factor allows builders to use smaller cases which can lower costs and, more importantly, space.
Personally, I'm not a fan of the silver on black color scheme as it just seems out of place but, does provide a nice backdrop for the popular "white out" builds that feature ARGB on white components. Speaking of ARGB, you will get a total of four RGB headers, two addressable and two regular and there appears to be a lack of onboard lighting so you'll have to roll your own.
Sadly, this motherboard does suffer from the lower cost nature of the design. The onboard audio is an unnamed Realtek PHY with limited audio connections. Most gamers have migrated to USB audio solutions which makes onboard audio something of an "unused requirement". I also take issue with the lack of an included driver disk. It seems silly but, there is nothing worse than putting together a system and not being able to use it because you cannot get on a network. The final issue I'd like to mention is how the Aorus B660M Pro AX supports DDR4 memory but failed to include support for older LGA 1200 heatsinks.
Good Things
Next Generation Design
Supports 2x M.2 Drives
PCI Express 5.0
Silver on Black Theme
Great Gaming Platform
You'll Need a New Heatsink
Bad Things
No onboard RGB lighting?
No benchtop controls
No driver disk
No real onboard audio
You'll need a new CPU heatsink