Aorus B660M Pro AX DDR4 Edition Micro ATX Motherboard Review
Aorus B660M Pro AX DDR4 Edition Micro ATX Motherboard Review
Author:

Dennis Garcia
Published:
Monday, June 20, 2022

Board Layout and Features Continued
Dual channel memory comes standard on the Alder Lake processor and the B660M Aorus Pro AX DDR4 supports standard speed DDR4 modules with overclocking support up to 5333Mhz. Actual speeds will depend on your module choice and processor quality. A maximum of 128GB is addressable with the proper module density.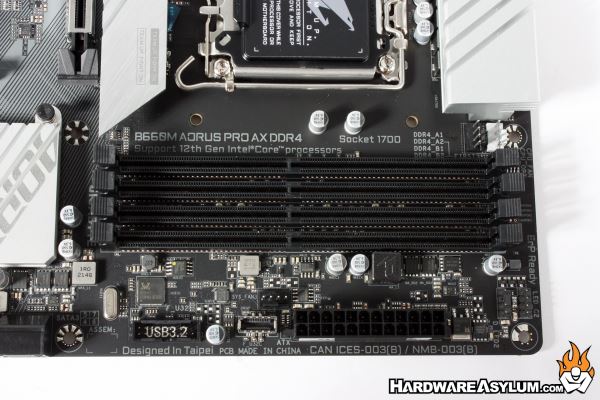 To the right of the memory sockets, you'll find several PWM fan headers and two of the RGB and ARGB connections.
Internal SATA connections number four and follow the new SATA6 connection standard. RAID levels 0, 1, 5 and 10 are supported using the setup wizard in the UEFI BIOS.
One of the biggest shifts when it comes to motherboard design is support for storage. For years storage has been the bottleneck and we have gone to great lengths to ensure that our data access is fast. Well, it would seem that when storage is no longer a bottleneck every motherboard designer finds it necessary to include as many PCI Express enabled M.2 slots as possible.
In the place of the usual PCI Express expansion slots you will find a total of two M.2 sockets all supporting PCI Express 4.0 and cooled by an integrated cooling solution. The top slot is using bandwidth from the CPU while the others interface directly with the SB/MCP. It doesn't matter which slot you pick unless you are running a mix of M.2 and SATA based drives.