Gigabyte F2A88XN-Wifi Motherboard Review
Gigabyte F2A88XN-Wifi Motherboard Review
Author:

Dennis Garcia
Published:
Saturday, April 26, 2014

Introduction
Just in case you missed it, small form factor machines are making a comeback. For years hardware enthusiasts have skipped over the Mini-ITX form factor, it is small, has limited expandability and often didn't support overclocking. As it would turn out times are changing and what once was ignored in the enthusiast community is getting a new lease on life.
In this review we will be looking at the Gigabyte FSA88XN-Wifi . This is a AMD A88X based motherboard supporting FM2+ based processors like the Richland and Trinity APUs. The motherboard also sports the Mini-ITX form factor and comes with a laundry list of features that rival many modern full sized boards.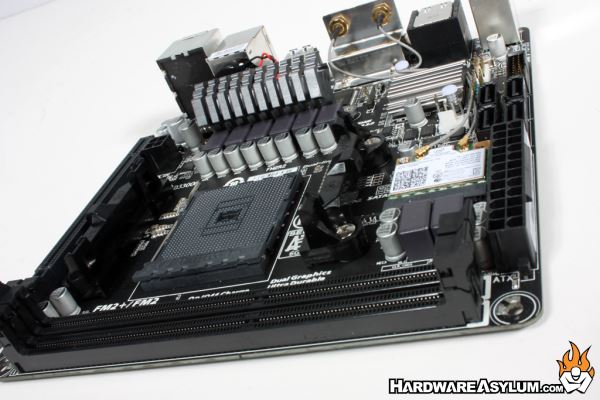 Admittedly, as enthusiasts we often look for motherboards that offer the best "bang for your buck" which is code for something good that you can build on. These motherboards can range from high-end overclocking motherboards like the Z87X-OC Force that supports multiple graphics cards and a wide array of overclocking features to gaming motherboards like the Gigabyte G1 Sniper series. The differences between these boards often dictates their usage, Overclocking vs Gaming but also offer a certain degree of expandability.
For instance they both support multiple graphics cards allowing you to increase video performance over time. Both boards also come with four memory slots allowing you to upgrade memory support when you need more. There is also a badge of honor in owning these motherboards and more often than not the system remains largely intact based on your original specs. Obvious exceptions aside, the upgrade market is slowly dying and many hardware enthusiasts are looking to build a good system with great specs and, leave it alone.
For these builders a Mini-ITX motherboard like the Gigabyte F2A88XN-Wifi are a perfect example of a motherboard that can deliver exactly what you need and still give you options to upgrade later on. Or, if you are like most hardware enthusiasts, you have two systems. One for overclocking, tweaking and other weekend activities while the second remains untouched and 100% stable.