Gigabyte F2A88XN-Wifi Motherboard Review
Gigabyte F2A88XN-Wifi Motherboard Review
Author:

Dennis Garcia
Published:
Saturday, April 26, 2014

Board Layout and Features
As with most Gigabyte motherboards the PCB is completely black and features the Ultra Durable technology that, among other things, features a 2oz copper PCB design and high quality components. One of the side benefits of the 2oz copper PCB is a sturdy platform that is harder to break and won't bend much under pressure.
Flipping a motherboard over can tell you a lot about its construction from where major chips are located to how many PCI Express lanes are wired to the slots. Given that this board is packed with features you'll need to expect some solder congestion. Aside from the plethrora of solder connections the back of the motherboard is devoid of any major components but does have a few surface parts here and there.
It is really important to have excellent power delivery even if the motherboard is small and compact. The F2A88XN features a conservative 6 phase VRM design and dedicated mosfet cooler.
Next to the VRM you'll find the 4-pin CPU power connector and enough room next to the connector for the instances where your PSU only comes with the 8-pin variant.
Dual channel memory comes standard on the AMD APU and the F2A88XN supports DDR3 modules up to 2133Mhz (OC) with a maximum of 64GB usable. This is more than twice the supported memory of most Ivy and Haswell based motherboards. The only issue would be finding 32GB modules so we can safely say 32GB might realistically be the maximum this board supports.
24pin ATX power is located opposite of the 4-pin CPU connector and in a traditional location near the upper edge of the motherboard near the memory slots. We found that cable routing can be a little difficult with these smaller motherboards since one wire will most certainly need to pass over the entire board.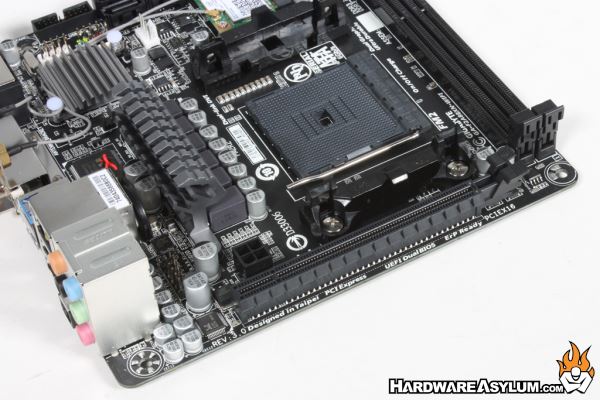 Normally our motherboard reviews would feature the Hardware Asylum Multi GPU Index but considering that our sample only has a single PCI Express slot it wouldn't apply. The single expansion slot is located near the lower edge of the motherboard. We did notice some clearance issues when trying to remove the video card given the proximity of the memory and CPU cooler. Lucky for us the paddle style card lock is easily accessible with a pencil.