Gigabyte X79 UD7 OC Motherboard Preview
Gigabyte X79 UD7 OC Motherboard Preview
Author:

Dennis Garcia
Published:
Monday, November 14, 2011

Board Layout and Features
With the motherboard removed we can get a better look at it.

The motherboard features a matte black PCB with orange expansion slots and color accents on the various heatsinks. Like previous UD7 motherboards the X79 is designed for mutliGPU applications and features a slot layout to support up to four GPUs at one time.
Looking at the back of the motherboard we can see how the PCI Express slots are wired and some indication as to what slots are considered primary vs secondary in terms of bandwidth allocations.

There are a few surface components on the back of the board to support the new PWM design.

Sandy Bridge E is based on the LGA 2011 pin package and requires a completely new socket retention method. Previous designs would hold the processor down using only a couple of pressure points. These pressure points were problematic over time and would exert uneven pressure on the socket pins and cause contact issues.

The new socket design appears to apply pressure to both ends of the processor and should help to ensure even processor across the entire processor package.

Around the CPU socket you may notice four threaded sockets, these are used to hold the heatsink in place and use the same layout as found on the LGA 1366. Of course the heatsinks will not be interchangeable due to the threaded holes and difference in processor profile but users with LGA 1366 waterblocks will simply need to swap their mounting hardware for the metric equivalent and use threaded rods to hold the blocks in place.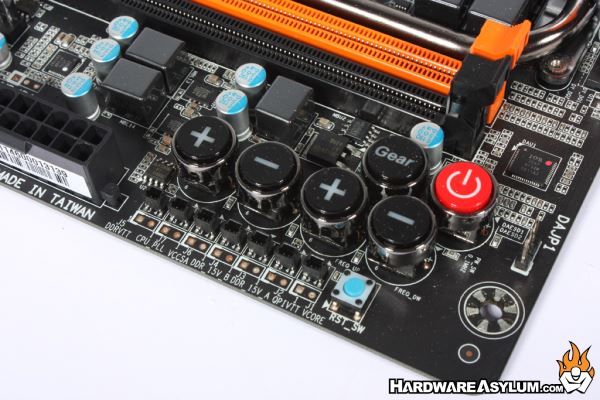 A great feature found on the
X58A-OC
was the hardware based overclocking controls that allowed you to change mulitpliers and BLCK settings independent if BIOS settings or OS. This can be very helpful for those looking to change system settings after your OS has loaded or in the middle of a benchmark when running on the edge of stability.