Gigabyte Z170X Ultra Gaming Motherboard Review
Gigabyte Z170X Ultra Gaming Motherboard Review
Author:

Dennis Garcia
Published:
Wednesday, July 27, 2016

Conclusion
In this review we looked at the Gigabyte Z170X-Ultra Gaming motherboard. As the name suggests this board is part of the Gigabyte G1 Gaming Series but is lacking much of what makes the G1 Series attractive to gamers. For instance the lack of a Killer Networks controller and replacement of a HD Audio controller in place of the Gigabyte Op-Amp solution indicates an attempt to save cost by removing lesser used features. This is further reinforced by the physically smaller VRM and trimmed down heatsinks used on the VRM and Chipset. Z170 and Skylake both are very power efficent so trimming a little isn't always a bad thing.
The Gigabyte Z170X-Ultra Gaming does have a number of good things going for it. In place of the Killer Networks controller you get a Intel GbE LAN connection featuring cFosSpeed. Based on the documentation it works much like the Killer Networks software to improve network latency and ping times by managing the network traffic. You also get the new Next Generation Thunderbolt 3 controller with 40GB/s of bandwidth and USB 3.1 Type C connection that can deliver 100W of power to rapid charge your mobile devices.
Maybe one of the most iconic features found on the Gigabyte Z170X-Ultra Gaming is the Ambient LED lighting found scattered around the motherboard. These aren't RGB LEDs so you will be limited to a single color and currently have the following options: Solid Red, Blinking Red and Off.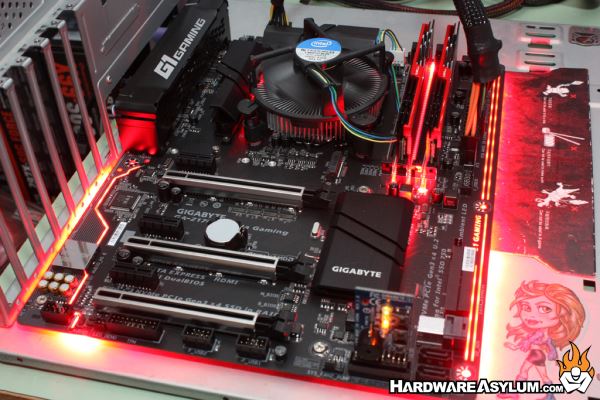 Back in the early days Abit experimented with Ambient LEDs by placing a few on the backside of their motherboards. Everyone thought they were the coolest thing until they realized that once you start installing your components many of the LEDs that looked so awesome outside the case were blocked from view once it was installed. Of course they would still glow but became more of an indicator of things in front of the light rather than the super cool underglow that everyone wanted.
For instance, there are three LEDs located under the two primary video card slots. They become active when a card is installed and are almost completely obscured by the video card heatsink. This obscurity is fairly common around the motherboard including the LEDs near the VRM, Chipset cooler and Memory sockets. Contrast that with the blaring edge lighting and memory sockets that are always on and I see a very imbalanced lighting implementation.
They still look good, just could have been done better IMO. Maybe a future BIOS update will add more more effects like knight rider, chase or disco party since blinking (pulse) doesn't seem very good for a gaming motherboard.
I may harsh on the LED lighting but overall I really liked the Z170X-Ultra Gaming. Performance was as expected and it delivered good overclocking performance and stability. In terms of features I like the three way RAID 0 option using NVMe drives. Using this feature will depend largely on U.2 drive availability and affordable expansion card versions but is a great option to help future proof your gaming rigs.
Good Things
Black on black board design
Metal Reinforced Expansion Slots
I/O Cover
LED Lighting Effects
U.2 Sockets
Bad Things
Option to turn the LEDs off
No onboard power and reset buttons