Gigabyte Z170X Ultra Gaming Motherboard Review
Gigabyte Z170X Ultra Gaming Motherboard Review
Author:

Dennis Garcia
Published:
Wednesday, July 27, 2016

Board Layout and Features Continued
Dual channel memory comes standard on the Skylake processor and the Z170X-Ultra Gaming supports standard speed DDR4 modules at 2133Mhz with overclocking support beyond that including XMP profiles up to 3866Mhz. A maximum of 64GB is addressable with the proper module density.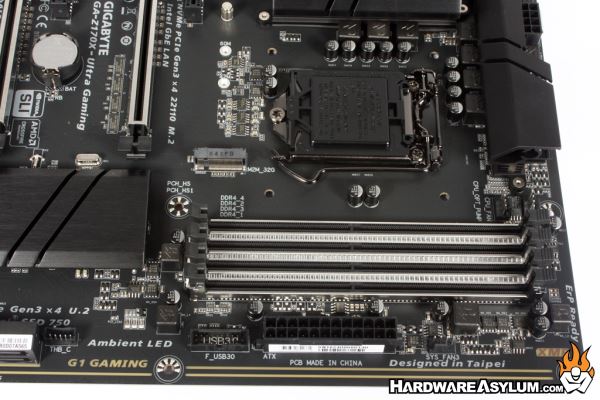 Maybe one of the over-to-top additions to this motherboard is the inclusion of the "Dual Armor" which consists of a single piece of stainless steel shielding around the memory sockets with a couple of intended benefits. The first is to reinforce the memory sockets to prevent PCB distortion. This makes sense considering that installing memory often introduces flex on the PCB, especially when the motherboard isn't properly mounted. (read the instructions people). The second benefit is ESD prevention due to a larger grounding surface.
NVMe SSD Support
Internal SATA connections number six and follow the new SATA6 connection standard. Two of these connections are dedicated to SATA Express which is connected to the Z170 chipset. Next to the Sata Express you will find a single set of U.2 connectors allowing you to run 2.5" PCI Express SSD drives.
The packaging claims triple NVMe drive support which is accomplished using the U.2 connector, the M.2 located above the top PCI Express slot and a third drive installed into the last PCI Express slot. All of these can be run in a software RAID configuration for extra speed.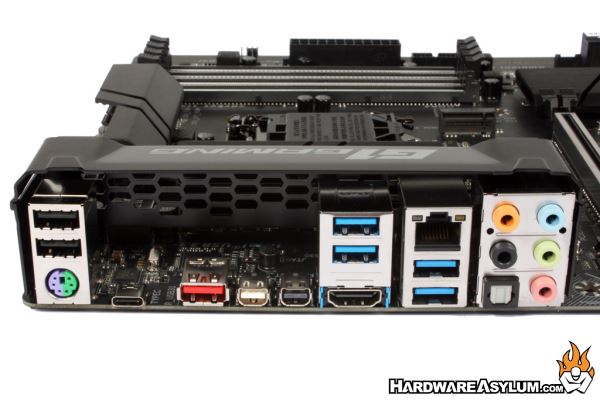 Ultra Gaming comes with a interesting I/O panel. Here you will find a single combined PS/2 keyboard and mouse plug, two USB 2.0, one USB Type C, one USB 3.1 (red), four USB 3.0 ports (blue), a single gigabit Ethernet connection, one HDMI, 8 channel analog audio with digital connections over optical. You will also notice two mini DisplayPort connections. One of these can be used for video output while the second is designed to be a display port IN connection allowing you to consume data. This feature is currently disabled and intended for future expandability.