Gigabyte Z170X Ultra Gaming Motherboard Review
Gigabyte Z170X Ultra Gaming Motherboard Review
Author:

Dennis Garcia
Published:
Wednesday, July 27, 2016

Onboard Audio and Included Goodies
Onboard Audio
The Gigabyte Z170X-Ultra Gaming comes equipped a High Definition Audio option powered by a Realtek ALC892. This might not be as nice as the Gigabyte AMP-UP Audio solution but occupies a similar separated section on the motherboard and comes with high quality gold capacitors.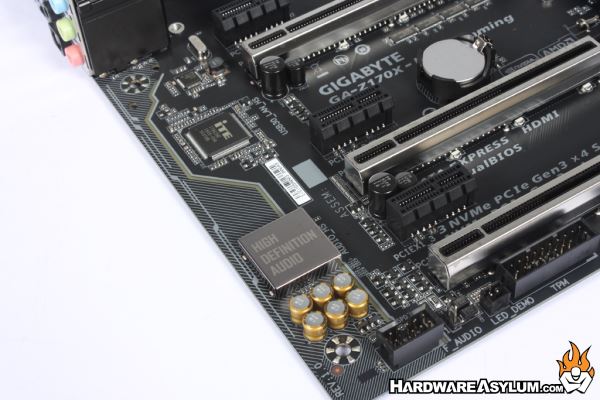 Like on previous motherboards the onboard audio is constructed on an electrically separated section of the motherboard to reduce EMI and offer the best chance at good audio reproduction.
Included Goodies
We have come to expect more goodies from our high-end motherboards. The extras help to justify the additional cost and sometimes help pad the parts bin for when you need replacement cables and video card bridges. Gigabyte has included everything you see below which includes four SATA6 cables (with locks), manuals, I/O shield, driver disk and SLI bridge for 2-way video card configurations.
You will also get some gamer friendly gear including a handy door tag, some identification stickers and some Velcro cable ties.