Gigabyte Z68X-UD3H-B3 Motherboard Review
Gigabyte Z68X-UD3H-B3 Motherboard Review
Author:

Dennis Garcia
Published:
Wednesday, February 22, 2012

Conclusion
In the beginning of this review we asked the question of what can a mainstream motherboard really provide and do you need to build a great budget system. Having reviewed several P67 and Z68 we can say that a little goes a long ways and what is important for mainstream is features.

The GA-Z68X-UD3H-B3 a very unique motherboard in that it comes with all of the Ultra Durable Features like the 2oz copper PCB and whole list that alone would make this conclusion way to long. What is important to note is that this board is designed to be inexpensive and system builder friendly, It may not come with a large PWM or support for more than two graphics cards but it takes advantage of Sandy Bridge video and has been upgraded to support PCI Express 3.0 which is something you don't normally find in a board in this segment.

Performance is what we had expected for a system of this caliber and it is no secret that the motherboard has less to do with overall system performance and more to do by enabling system tweaks, overclocking, and basic hardware support. We stopped our overclocking adventure at 4.5Ghz and reached that speed with only a few minor tweaks. Chances are you can have similar performance provided your cooling is good and you have some time to tune your voltage settings.
Good Things
Dual Card SLI Support
Extra space between video card slots
Onboard TPM for Security
SATA 6
New Version Supports Gen3 PCIe
Onboard Video
Bad Things
No POST indicator, difficult to debug when overclocking
Limited Overclocking Headroom
Ninjalane Rating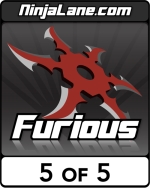 Gigabyte Z68X-UD3H-B3 Motherboard Review
Furious 5 of 5
https://www.hardwareasylum.com