ASUS ROG Maximus XI Apex Motherboard Review
ASUS ROG Maximus XI Apex Motherboard Review
Author:

Dennis Garcia
Published:
Friday, May 03, 2019

Benchmarks - Overclocked
As with all of our reviews, we pit the default speed system against the overclocked one in a head-to-head byte match. The effective overclock for these tests is 5.252Ghz @ 52x multiplier and 101 BCLK. The Core i9 9900k is an interesting processor to overclock, it already is extremely fast having two cores running at 5Ghz with the remainder being of the 8000 series quality.
To get the most performance there are two things you need to do. First is sync all of the cores to the same clockspeed and next set the XMP values for your memory modules. From there it is a matter of voltage tuning to control heat. I found that despite the 9000 series processors being soldered they will still throttle under load. This was the case for me where even at 5.1Ghz I was getting a throttling condition that dropped the CPU down to 4.9Ghz. To combat this I opted for a Voltage Offset on the CPU and started tweaking the voltage additions until the benchmark would pass without throttling down.
What I also discovered is that I could push this particular CPU up to 5.4Ghz provided that I only overclocked the 5Ghz cores, once I enabled the rest the system would crash. I was able to find a happy medium but it took some tweaking and tuning.
CPUz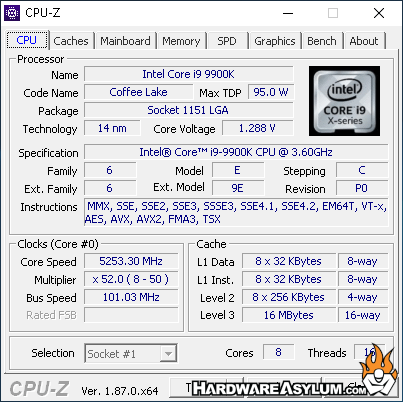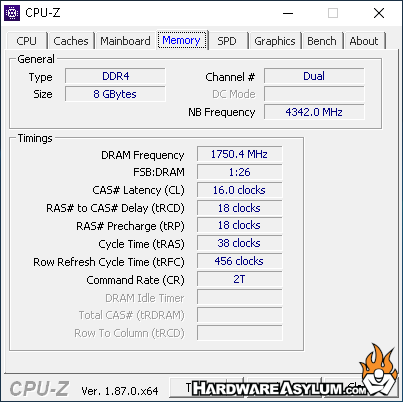 SiSoft Sandra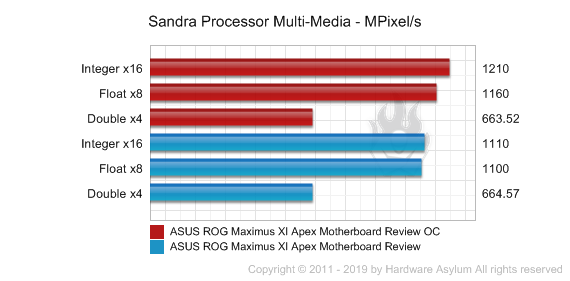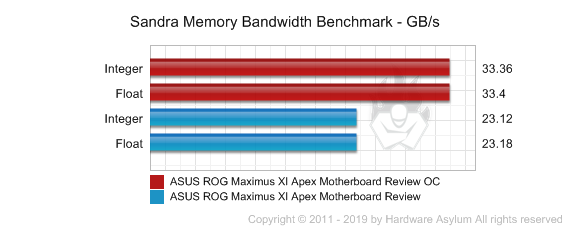 Unreal Tournament 3

Call of Duty 4 Modern Warfare

Futuremark PCMark 10

Overclocking Conclusion
To maximize system performance you have several options depending on your level of commitment. For me I have three that I circle around when deciding to do a motherboard review. The first is straight up air/water like what I did for the Maximus XI Apex and will be the closest to a real world overclock that you can get. Next would be my Single Stage Phase chiller and I'm lucky enough to have picked one up many years ago to give me a bit of an edge when it comes to pushing the limit. Finally there is LN2 which is SUPER fun. LN2 is also one of the most expensive but can give you some amazing results. For instance the Core i9 9900K I used in this review will do 6.3Ghz with no problems and is 3D stable. I also know that 6.3Ghz isn't all that good under LN2 indicating that my chip isn't all that good.
Whatever method you choose for your overclocking adventure take care to match your hardware. For instance a Core i9 really needs 4000Mhz+ memory and a nice M.2 drive to really wake it up.