ASUS ROG Maximus XI Apex Motherboard Review
ASUS ROG Maximus XI Apex Motherboard Review
Author:

Dennis Garcia
Published:
Friday, May 03, 2019

Onboard and Included Features
The I/O panel is rather self explanatory thanks in part to the completely integrated I/O shield which is part of the shroud. Staring at the left you will find a CMOS reset button sitting atop of a CMOS Flashback that allows you to flash the BIOS without actually entering the BIOS menu. Next to that you'll find two PS/2 ports for keyboard and mouse. These are good for 2D benchmarking since USB controllers take CPU cycles to operate.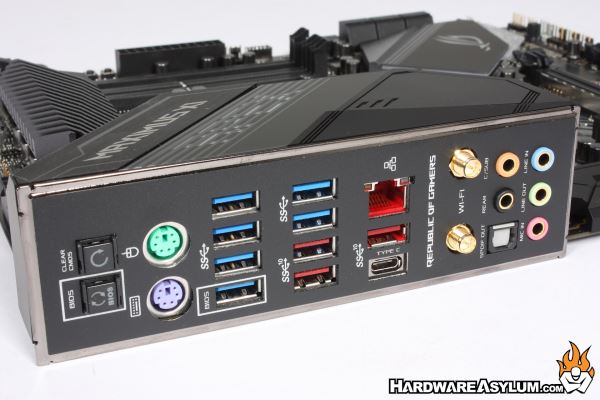 There are a total of 10 USB ports on the Apex all of different generations. You'll want to consult the manual for a map to which will match your devices best. Network connections can be either the onboard Ethernet or the Wi-Fi which supports up to AC speeds and Bluetooth.
Onboard Audio
The onboard audio solution found on the Apex is an ROG SupremeFX controller supporting up to 8 channels with a digital connection over optical. Like most of the high-end motherboards you'll find some specialized audio capacitors near the controller.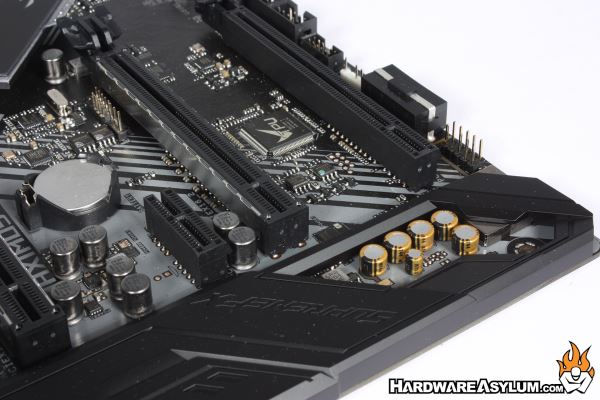 The core of this generation is still the multi-channel SupremeFX S1220, which features an unprecedented 113dB SNR line-in and 120dB SNR line-out that allows users to stream and record with minimal noise. The codec also features a headphone amplifier that provides 2.1Vrms output, a drive capability up to 600-Ohms, and the ability to perform impedance sensing. Premium Nichicon capacitors are used to perform decoupling duties, ensuring low ripple and noise.
Included Goodies
We have come to expect more goodies from our high-end motherboards to help justify the additional cost and ASUS ROG has been one of the best over the years. With the Apex you'll get just enough to get you up and overclocking like a champ in no time.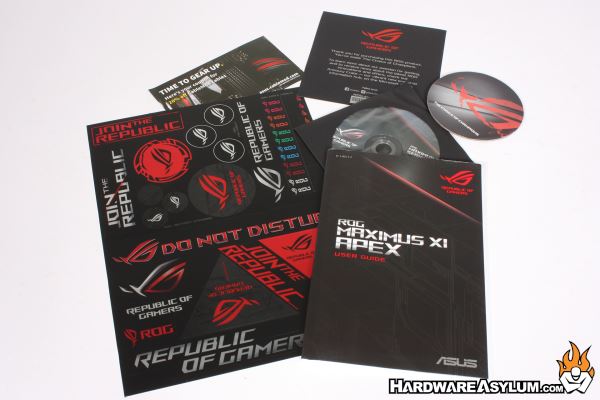 In terms of documentation you will get very healthy users guide which will help you locate all of the key components on the motherboard and even help troubleshoot POST codes in the event you have problems booting.
An ROG single HB SLI bridge for 2-way configurations is included. As we all know starting with the NVidia Pascal GPU SLI is done over an High Bandwidth SLI bridge that uses both sets of SLI fingers on the video card. The board layout will not support 4-way operation but does have a third PCI Express slot for PhysX (As if anyone does that anymore) or any expansion card requiring 4x of better lanes of bandwidth.
You will also get a nice sticker sheet with some fancy ROG logos along with a drink or LN2 flask coaster to protect your desk. SATA cables, RGB Cables and the external antenna for the built-in Wi-Fi.