ASUS ROG Maximus XI Apex Motherboard Review
ASUS ROG Maximus XI Apex Motherboard Review
Author:

Dennis Garcia
Published:
Friday, May 03, 2019

Board Layout and Features
The ASUS Apex motherboard is following a traditional color and layout that we have seen for years. Black on black with a large VRM surrounding the CPU socket and memory modules off to the right. Gone are the PCB cutouts we saw on previous APEX motherboards in flavor of some white accent colors that both highlight the Maximus XI APEX name and line up with various elements on the motherboard including the expansion slots and heatsinks.
Flipping the motherboard can tell us a lot about how it is constructed including where some of the major chips are located. Unlike many of the other motherboards I have reviewed there is a good amount of activity on the back of the Apex. In addition to the multitude of wave solder connections you'll find labels for key locations including a call out to fan headers, LED light strips and the large squares in the middle are Light Bars allowing you to personalize your Apex.
Every mfg has a go to power design that works and they tend to stick with it. The VRM on the Maximus XI Apex is handled differently than on previous editions. A 16-phase design comprised of large chokes and a double stacked array of capacitors flanking the edges is located around the CPU socket however the power is delivered differently than before. Typically you might see a smaller VRM (8-10 phases) with doublers in place to deliver more power when it is needed. This style of VRM is rather common and works well but it takes time for the doublers to activate creating voltage sags during the transition.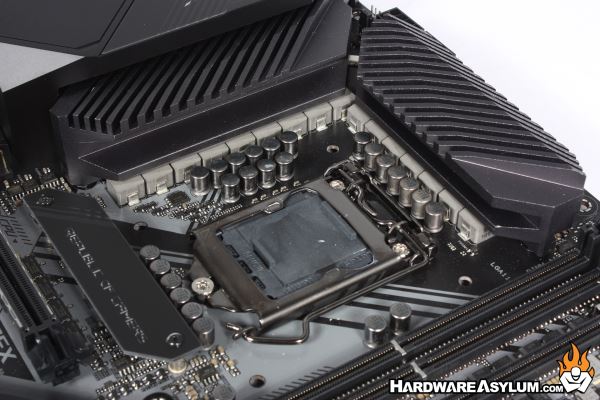 The new design is using a "Teamed Power Stages" approach where they have physically added more power stages and will be activating them two at a time. You will get the same power delivery with smother transitions and better stability on larger core count processors like the Core i9 9900k.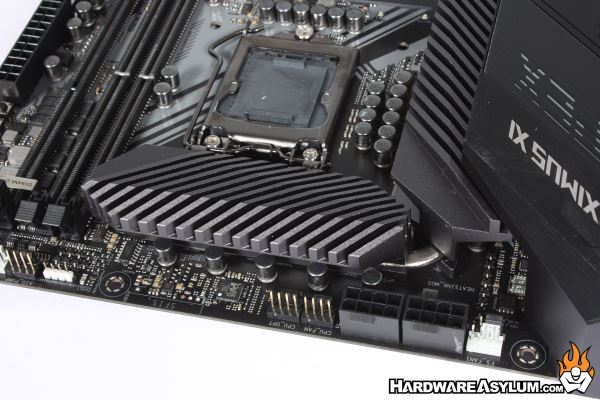 Any proper overclocking motherboard needs ample current to operate effectively especially under LN2 and the ASUS Apex is rocking a double stack of 8-pin CPU power connectors between the I/O panel and VRM heatsink. Despite the location and proximity to additional fan headers they are surprisingly easy to access and located high enough on the motherboard to help with cable management.