ASUS Maximus XII Formula Motherboard Review
ASUS Maximus XII Formula Motherboard Review
Author:

Dennis Garcia
Published:
Thursday, June 4, 2020

Board Layout and Features Continued
Dual channel memory comes standard on the Comet Lake processor and the Maximus XII Formula supports standard speed DDR4 modules up to and beyond 4700Mhz. Actual speeds will depend on your module choice and processor quality but, be humbled the board can handle it. A maximum of 128GB is addressable with the proper module density.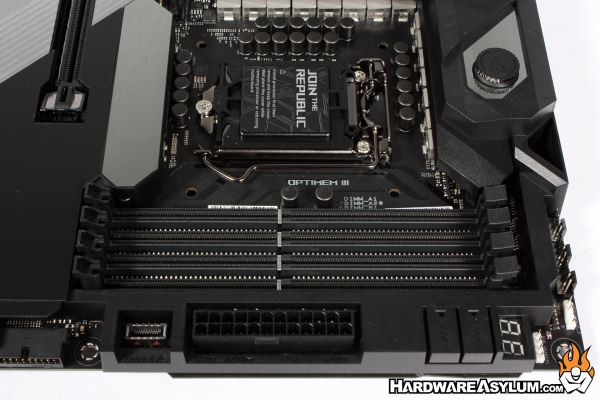 Below the memory sockets you'll find the onboard bench controls including power and reset buttons covered in the plastic shroud. At the bottom of the board you'll find the friendly ReTry button that works to force the board to restart when the normal reset button isn't working.
Internal SATA connections number six and follow the new SATA6 connection standard. If you happen to use any of the onboard M.2 slots be warned that some of these SATA ports will be disabled. Next to the SATA connectors you'll find a standard USB 3.0 header mounted 90 degrees.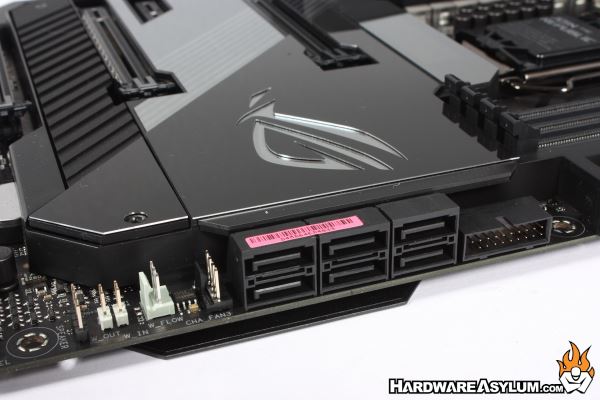 The connections nearby are dedicated watercooling ports for monitoring your DIY loops. The 3-pin fan header in white is a flow control and appears to be RPM based and a couple of temperature sensors. These are all great additions for those looking to maximize and tune their water loops.
The Z490 chipset comes with 24 PCI Express 3.0 lanes and unlike the lanes coming from the processor the chipset PCIe are intended for connectivity and storage. You will find a total of three M.2 slots on this motherboard all with different key types for different devices.
Two of these slots are located at the bottom of the motherboard and feature an integrated heatspreader. Simply remove two screws and you'll be free to install two drives. The third drive location is on the back of the motherboard with a cutout in the backplate to accommodate the drive.
To be honest this is the first time I have ever seen an expansion slot located on the back of a motherboard and I'm not bothered by it. However it will be a challenge to replace this drive or install it after the system has been built.
Live Dash
A key feature found on the Maximus XII Formula is the Live Dash. This is a two inch OLED screen that can display vital system stats along with animations and other graphics. Despite starting out as a novelty the addition of OLED screens has become extremely popular in recent years. Quite a few high-end RTX 2080 Ti video cards feature OLED screens and ASUS has had them in some form or another for as long as I can remember (well LCD back then but you get the gist). They look cool but are very limited in what can be displayed and still require a dedicated bit of software to make them work.
Still, this one on the Formula is darn cool and is sure to make your build stand out at the local LAN.