MSI X99A Godlike Gaming Motherboard Review
MSI X99A Godlike Gaming Motherboard Review
Author:

Dennis Garcia
Published:
Friday, July 24, 2015

Additional Features
A new feature found on the MSI X99A Godlike is these metal covers on the PCI Express slots. This is something I talked about on the Hardware Asylum Podcast saying I wasn't convinced they were needed or would do any good. As it turns out while the Godlike I saw during Computex didn't have them connected to the motherboard the retail version of the motherboard does.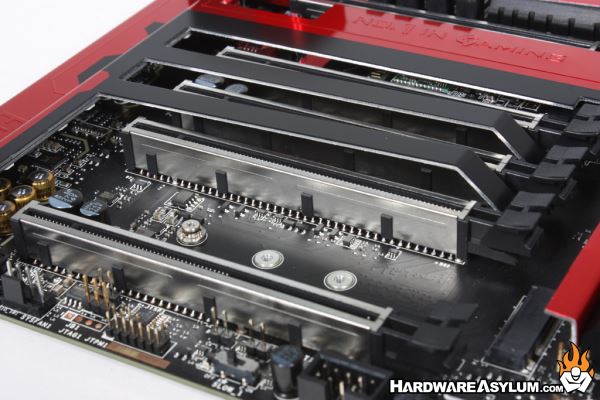 The intent of these metal covers is to reinforce the PCI Express slot. Typically the slot is a friction connection made from the pins sitting in the plastic connector. By adding these metal covers the slot now has a mechanical connection to the motherboard via solder points that will prevent pulling the slot up and splitting the slot from sideways pressure.
Bottom line, they made the plastic stronger. There is also a rumor that the metal will also block EMI which might be a future problem with PCI Express 8.5 but who really knows.
MSI Mystic Lights
One of the defining features of the MSI X99 Godlike is the onboard lighting effects. Since this is something you need to see to believe I have prepared a short video.
Onboard Audio
The audio solution found on the X99A Godlike is very unique in that it features the Audio Boost 3 technology. The audio components occupy a section of the motherboard that is electrically separated from the rest of the main PCB. If you look carefully you can see the separation in the PCB layers where the board is devoid of color.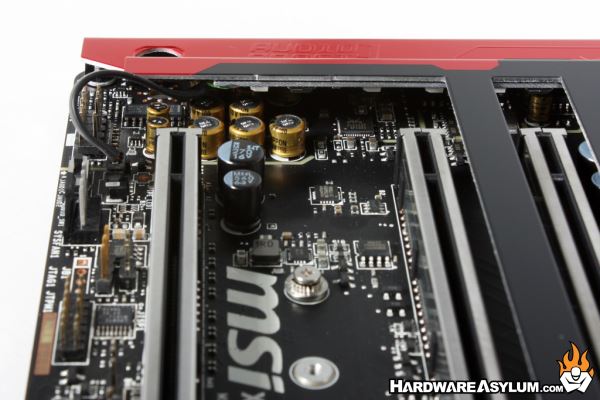 Audio Boost 3 Pro is powered by Nahimic Sound Technology and designed to deliver the highest sound quality through the use of premium quality audio components. On top of the specialized components this is also where the dedicated 6.5mm headphone jack comes in helping to reinforce their dedication to audio quality.