MSI X99A Godlike Gaming Motherboard Review
MSI X99A Godlike Gaming Motherboard Review
Author:

Dennis Garcia
Published:
Friday, July 24, 2015

Introduction
There is a natural evolution to computer hardware. Some of it is forced like separated audio on a motherboard but other things happen based on recommendations from users or some crazy idea the in-house overclocker came up with. Regardless of the genesis whatever goes into a motherboard often defines that product and what comes afterwards.
In this review I'll be looking at the new MSI X99A Godlike Gaming motherboard. This is a new X99 motherboard I saw during Computex and was very impressed with how far MSI went to create a great looking motherboard. Much like the X99A Gaming 7 the Godlike is another perfect example of what a high-end gaming motherboard should look like with the added benefit of more cowbell
The MSI Gaming line has a very rich history starting with enthusiast hardware tailored to match what gamers wanted. The brand would later become a premier name in eSports while simultaneously supporting some of the top gamers in the world. Some of that brand power comes from the unique color scheme and instantly recognizable MSI gaming logo.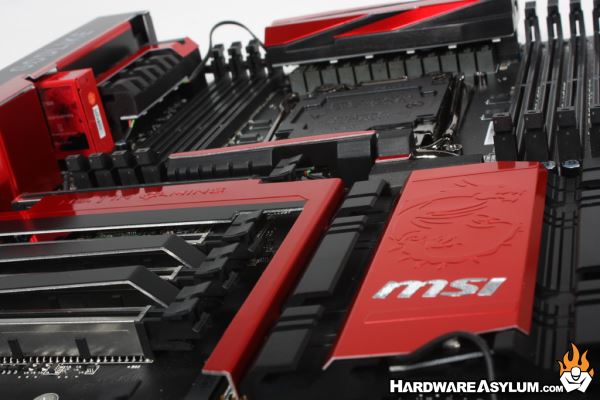 When it comes to gaming hardware, like motherboards and video cards, it is often the accessory package that defines why gaming hardware different. For instance the X99A Godlike has its roots in Overclocking and you can see this in the UEFI BiOS, the system layout, VRM and even benchtop controls. The difference is MSI has included an accessory package, motherboard configuration and software designed for mainstream use. It is these changes that make this motherboard "gaming" ready. Sure, some say "red" is gaming and others overuse the term to describe everything they do but, the truth is you can game on anything and some of the features on the X99A Godlike just make the process that much more fun.