MSI X99A Godlike Gaming Motherboard Review
MSI X99A Godlike Gaming Motherboard Review
Author:

Dennis Garcia
Published:
Friday, July 24, 2015

Conclusion
In this review we looked at the MSI X99A Godlike motherboard. This was a motherboard MSI highlighted during Computex 2015 as a pinnacle of what can be done with the X99 and will be difficult to best at any level.
There was a "joke" going around during Computex saying everything was gaming. "Oh look I have a gaming wallet!", "My chair is gaming, see how it can hold my beer?" While funny this was in response to how "everything" at the show had some sort of gaming spin. Some of it was warranted since the only thing gaming about the product was the name while other companies really take it seriously. MSI falls into the second of these and has created something I can say truly is gaming.
Gaming hardware starts with a good base. On the X99A Godlike we have a good PCI Express layout supporting 3-way and 4-way video card setups quite well. 2-way is the obvious optimization and conforms with a good majority of high-end gaming rigs. Audio is also extremely important. While, I still feel that a discrete audio solution is the way to go the Audio Boost 3 solutions found on this motherboard is one of the best I have tested. I don't test much related to network performance but I wanted to mention the Killer DoubleShot-X3 PRO used on the Godlike. This is a very unique way of separating network traffic and does so by splitting applications to a particular network connection. For instance watching YouTube/Twitch might happen over the WiFi while a Twitch broadcast is sent over Ethernet 2 and your game is dedicated to Ethernet 1. This ensures the lowest latencies for your online applications and assuming you are not bottlenecked by your ISP will increase performance.
Much of the onboard hardware is nothing unless you have equally good software. The Killer DoubleShot-X3 PRO is only possible when using the Killer Networks software and Audio Boost 3 is further enhanced by the Nahimic Audio Enhancer. The important difference to recognize is that you only need to install them if you plan to use them. Speaking of other optional software MSI also includes a few gaming specific applications like Xplit Gamecaster and the MSI Gaming App.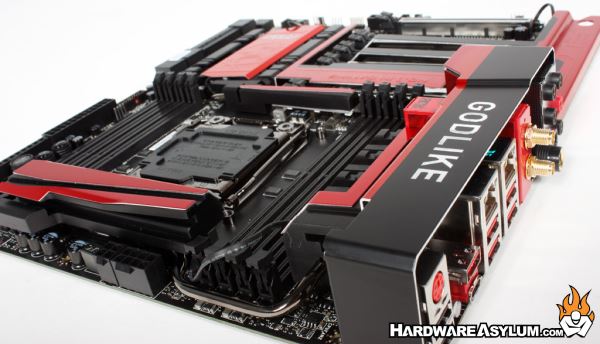 Visually the MSI X99A Godlike extremely unique and the first thing you will notice is the stamped aluminum shroud covering a good portion of the motherboard and metal brackets on the PCI Express slots. The shroud should not be confused with "thermal armor" but rather is a cover for the I/O connections, an EMI shield for the onboard audio and reflector for the Mystic Lights. On the Additional Features page of this review I posted a video showing the different lighting combinations. Of course the default is Red and looks great against the motherboard. The metal brackets are basically a reinforcement brace to ensure the PCI Express sockets stay on the motherboard and should prevent them from splitting in the event your PC takes a tumble from someplace it shouldn't be.
Overclocking is a big part of Hardware Asylum and no enthusiast motherboard would be complete without a few overclocking controls. The MSI X99A Godlike is no exception and actually comes with a good mix of performance features for enthusiast gamers and even more for those looking to dabble with LN2. Of these features I am most impressed with the choice in LGA 2011v3 socket design with a heatsink mounting plate that secures from the backside of the motherboard. Not only does this give the CPU area a cleaner look but adds strength for when you transport your gaming PC or want to use large or heavy CPU coolers.
Overall I really like this motherboard. It comes with everything you need to build a solid gaming computer and has a good list of additional features to push your gaming experience to the next level with solid performance.
Good Things
Black Color Scheme
Oversized VRM Heatsink
Excellent UEFI Menus
Flexible PCI Express Layout
4-Way SLI Support
USB 3.1 Gen2 (Type C)
DDR4 Performance
Onboard M.2
Excellent Audio
Onboard Shielding
Killer Networks DoubleShot-X3
Mystic Lights
Bad Things
Screws get lost in the shroud
Mystic Lights profile not saved to BIOS
Hardware Asylum Rating