MSI X99A Godlike Gaming Motherboard Review
MSI X99A Godlike Gaming Motherboard Review
Author:

Dennis Garcia
Published:
Friday, July 24, 2015

Included Goodies
One of the benefits to upgrading to a specialized motherboard is that not only do you get more features onboard but also in-box. The MSI X99A Godlike comes with a number of accessories including what you see below starting with the box.
I don't normally mention packaging when I talk about hardware but, MSI has really gone overboard on the box. The main package is a heavy cardboard laminated in a textured cover with the product description pressed into the side. It opens from the handle side with a magnetic clasp making the box not only look quality but feel the part too.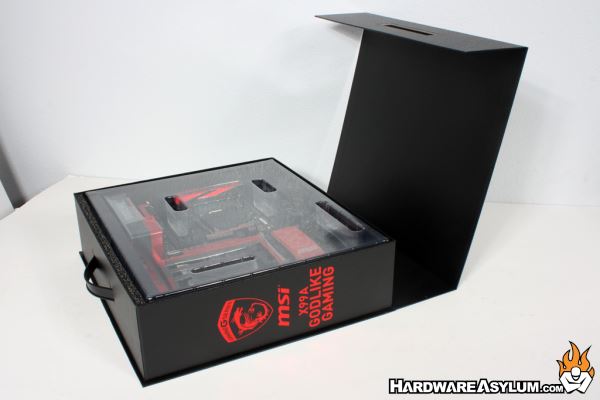 The other components include ribbon style SLI bridges, SATA cables with metal clips, WiFi antennas for wireless connectivity and also support for Killer Double Shot-X3 which allows you to use all three network connections at once. The Killer software will determine the best connection for the application you are using. For instance streaming on Twitch might go over the Wired connection while watching YouTube is done over wireless.
Unlike on some motherboards the M.2 slot is not robbed of bandwidh if you happen to use SATA Express. You might lose a few lanes depending on what processor you have installed but they are completely separate.
Given the popularity of NVMe on the PCI Express SSD from Intel it was only a matter of time before the connection was adapted to a motherboard.
This MSI branded U.2 host card can provide you with up to 32Gb/s of storage bandwidth using the Turbo M.2 connection and allow you to use NVMe based 2.5" SSDs.