Cooler Master V SFX Platinum 1100 Modular Power Supply Review
Cooler Master V SFX Platinum 1100 Modular Power Supply Review
Author:

Dennis Garcia
Published:
Friday, September 8, 2023

Power Supply Layout and Features
While the V1100 SFX might be small it does come packed with some really great features and the most notable is the cooling system. Here you will find a single 92mm fluid dynamic bearing fan that operates in a 15% semi fanless mode. When the PSU is operating below 15% load the fan will remain idle. Any load beyond 15% then the fan will spin up to keep the PSU cool.
The PSU is a single rail design and comes with the standard six bolt mounting system. The four outer screws will work for most installations but, the SFX standard calls for an additional two so you'll find the extras on every version.
A fully modular PSU indicates that every cable can be physically removed from the PSU. This can really help when it comes to building a PC and cable management. Simply remove the cables you aren't using to make running the required cables a breeze. Of course, if you happen to upgrade your build and need another cable, pull it out of storage and away you go.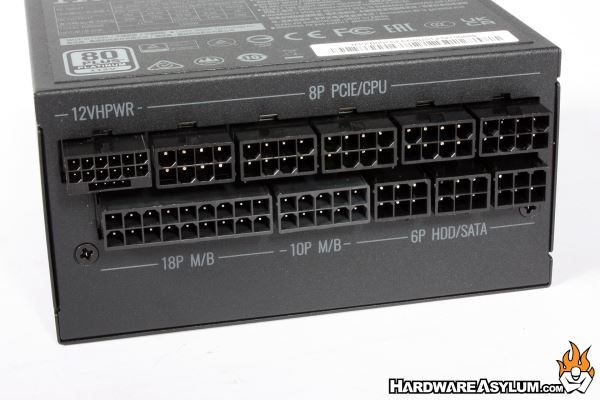 An important thing to note is that cables from modular power supplies are not universal and the cables for the CM V1100 SFX Platinum may not work on other Cooler Master power supplies or PSUs from other manufacturers. When upgrading it is best to consult the documentation before mixing and matching cable sets.
One of the major differences between this "V" edition PSU from Cooler Master is support for ATX 3.0 and PCI Express 5.0 which can be seen with the inclusion of the new 12VHPWR connection found in the upper left section of the modular plugs. This new connector is comprised of power pins and data pins allowing PCI Express 5.0 devices to communicate back to the PSU on the current power demands.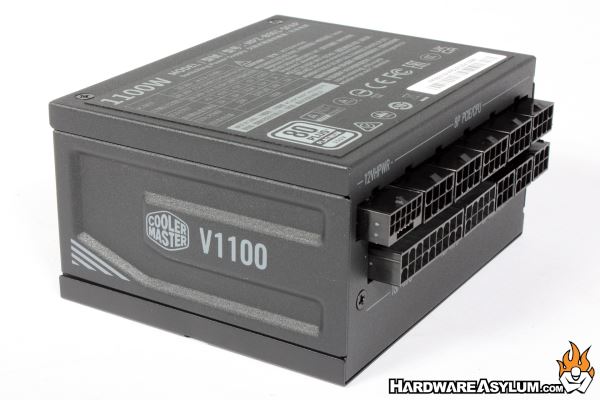 Looking at the PSU from the side we can see that while Cooler Master calls this a SFX PSU the modular plugs do stick out quite a bit and thus extending the overall length.
You will get the following cables
1x 24-pin Main Power Cable
2x 8-pin CPU Power Cables
3x Dual 6+2-pin PCI Express Power Cables
1x 12VHPWR PCI Express Power Cable
2x SATA Power Cables with 4 Plugs per cable
1x MOLEX Power Cable with 4 Plugs per cable
There is a couple interesting things to note about the new PCI Express 5.0 power cable. The first appears to be a Cooler Master exclusive with a 90 degree plug on one end. Ideally this flexible connection will give users a much nicer look when routing cables in their build.
The next item is somewhat related in that every cable included with this PSU is made from heavy gauge flat ribbon stock except for the 12VHPWR cable which features a more traditional sleeved bundle with heatshrink tubing on each end. I suspect this is due to the smaller data lines being a different gauge but visually, the cable just stands out.