Cooler Master V SFX Platinum 1100 Modular Power Supply Review
Cooler Master V SFX Platinum 1100 Modular Power Supply Review
Author:

Dennis Garcia
Published:
Friday, September 8, 2023

Conclusion
This is a pretty amazing power supply, not only is it rated for 1100w but comes with an 80 Plus Platinum rating, is fully modular and claims to be a SFX form factor. I have written several articles about power supplies and watched the technology grow at a very steady pace. Early 80+ power supplies were rather inefficient and could manage 750w with a gold rating. At the time this was considered extremely good despite the power supply being HUGE..
As the technology advanced, we started to see 80+ Gold rated units shrink in size while the larger units were reserved for 80+ Platinum and Titanium rated versions. Of course, every unit was fully modular and designed for multi-GPU systems, which were popular at the time. While at the enthusiast level systems were built with power hungry components and multiple graphics cards there was another group that favored SFF (Small Form Factor) builds based on the Mini ITX motherboard.
These smaller systems demanded a more compact power supply and the SFX form factor hit the markets. As with larger PSUs these smaller versions started out with lower power output in hopes of reaching a respectable efficiency rating.
A coupe years ago I was able to review an extremely powerful SFX PSU rated at 850w with an 80+ Gold rating followed by a 750w with an 80+ Platinum rating. Both of these units were extremely power dense and really seemed like an appropriate place to stop.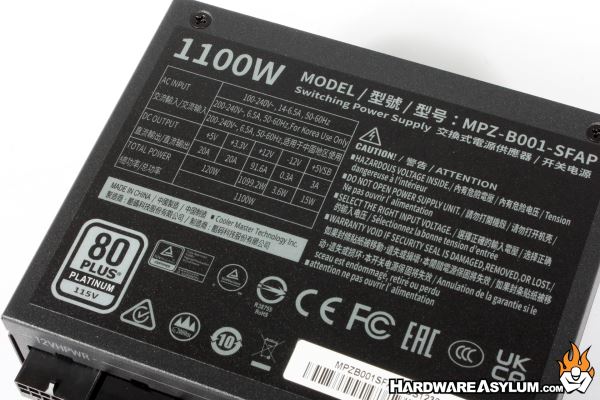 That is until I was sent the new "V" series from Cooler Master. These new power supplies are designed for ATX 3.0 power standards and come ready for PCI Express 5.0 with a single 12VHPWR power connector. In addition to the normal compliment of shorter SFX specific power cables you will find a special 12VHPWR cable with a 90-degree power plug to help in cable management and making sure your system looks great.
As mentioned, the PSU featured in this review is rated at 1100w thanks in part to the 80 Plus Platinum efficiency rating combined with a liberal interpretation of the SFX form factor where the modular plugs just happen to extend out past PSU case. I cannot fault Cooler Master for sticking to their form factor goal however, this oversight will cause trouble in certain chassis designs where form factor sizing is strictly followed.
This brings me to my other observation when it comes to power handling. At 1100w we are in the realm of extremely high-end builds using cards like the RTX 4080 and/or RTX 4090 coupled with a high-end multi core CPU. Both of these components generate massive amounts of heat and, as we all know, the smaller the chassis volume makes it difficult to properly vent.
As you can imagine that makes the Cooler Master V SFX 1100 a bit of a paradox where we have a super small PSU designed for small form factor systems and yet is completely overpowered for any small form factor build. Of course, that doesn't exclude this unit from being used in a full sized build but, again, why bother with a small PSU when you could go with a standard sized unit complete with decent cable length and more modular plugs.