SilverStone SX750 Platinum Fully Modular SFX Power Supply Review
SilverStone SX750 Platinum Fully Modular SFX Power Supply Review
Author:

Dennis Garcia
Published:
Thursday, July 15, 2021

Power Supply Layout and Features
While the SX750-PT might be small it does come packed with some really great features and the most notable is the cooling system. Here you will find a single 92mm dual ball bearing fan that operates in a 20% fanless mode. When the PSU is operating below 20% load the fan will remain off and completely silent. Any load beyond 20% then the fan will spin up to keep the PSU cool.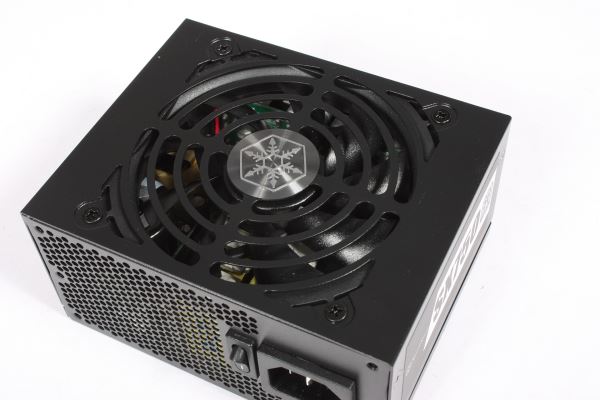 The PSU is a single rail design and comes with the standard six bolt mounting system. The four outer screws will work for most installations but there are a few which require the center two screw holes. These are part of the SFX standard so you'll find them on every version.
From a power perspective the SX750-PT features Strict +/- 3% voltage regulation and low ripple and noise to increase stability. This becomes important in locations where the power grid might not be the best and helps to ensure that your components can operate at peak efficiency. Of course this does not replace the need for a surge protector or even UPS battery backup in the most extreme situations.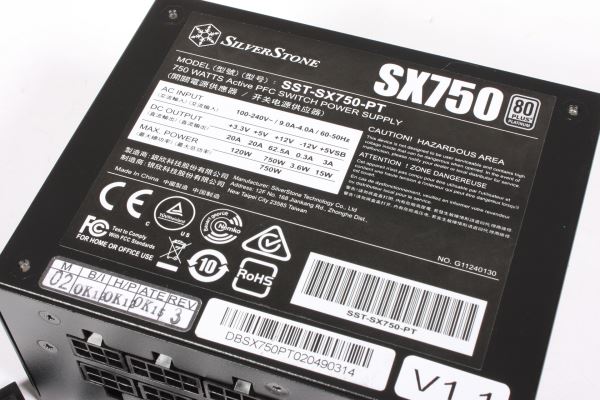 A fully modular PSU indicates that every cable can be physically removed from the PSU. This can really help when it comes to cable management in small form factor builds. For this you simply remove the cables you aren't using to free up space. Then, if you happen to upgrade your build and need another cable, pull it out of storage and away you go.
An important thing to note is that cables from modular power supplies are not universal and the cables for the SilverStone SX750 PT will not work on other power supplies however, they are usually interchangeable with cables from other SilverStone units. You can learn more about the SilverStone connector generations on their website.
The power connections are clearly marked along with a new plug called the "Sense". This is a 4-pin power connector and helps to improve the PSU's regulation performance by around 2%. You'll find this wire separated from the main 24-pin power cable and plugs into the upper right.
You will get the following cables
1x 24-pin Main Power Cable w/ 4-pin Sense
1x 8-pin CPU Power Cable
1x Dual 8-pin CPU Power Cable (shown with the PCIe Cables)
2x Dual 6+2-pin PCI Express Power Cables
2x SATA Power Cables with 4 Plugs per cable
1x MOLEX Power Cable with 4 Plugs per cable