SilverStone SX750 Platinum Fully Modular SFX Power Supply Review
SilverStone SX750 Platinum Fully Modular SFX Power Supply Review
Author:

Dennis Garcia
Published:
Thursday, July 15, 2021

Introduction
Power Supplies have been in a constant state of improvement for many years. Early power supplies suffered from a variety of issues including low power output, excessive heat, poor efficiency and a rat nest of cables. Over the years these have all been addressed with various certifications, improved switching circuits and casemodders demanding that their builds look better.
The one thing people often overlook is the physical size of a PSU and this has changed quite a bit. One of my favorite SIlverStone power supplies is the SilverStone Strider ST1500-Ti, it is a monster of a PSU featuring the extended form factor (making the PSU longer), a 1600w peak power output and 135mm cooling fan. While this power supply was amazing it was also extremely heavy.
A short time later SilverStone released the Strider ST1200w-PTS PSU which featured a smaller form factor due to the reduction in power output. It is still a great PSU but shows how changing one factor can impact the product as a whole.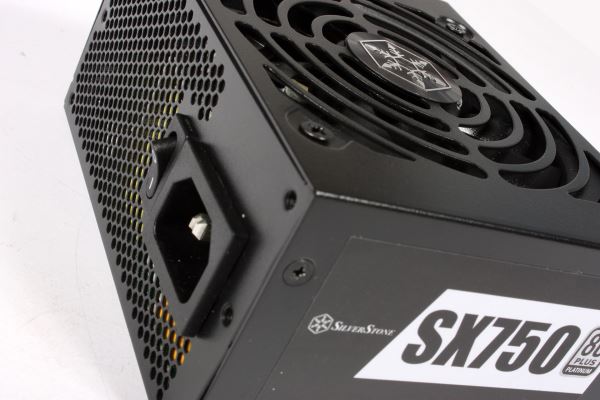 In this review we will be looking at the SilverStone SX750 Platinum SFX PSU. This is a fully modular power supply in the SFX form factor. We have seen SFX power supplies before however the major difference here is the 80 Plus Platinum rating which can offer a significant advantage when it comes to building in a small form factor chassis.
Special Features
Standard SFX form factor
Silent running 92mm dual ball bearing fan with minimum 0dBA
All Japanese capacitors
High efficiency with 80 PLUS Platinum certification
Class-leading single +12V rail
Strict ±3% voltage regulation and low ripple & noise
100% modular cables
All cables with flexible flat arrays
Specifications
Product No.: SST-SX750-PT
DC Output: 750W
Power density: 945W per liter
Model (safety certification): SST-SX750-PT
Color: Black(Lead-Free Paint)
Combined +3.3V & +5V: 120W
Combined +12V: 750W
Input Voltage: 90V ~ 264V
Input Frequency Range: 47Hz ~ 63Hz
PFC: Active PFC(PF>0.9 at full load)
Efficiency: 89% ~ 92% at 20% ~ 100% loading
MTBF: 100,000 hours
Operating temperature: 0°C ~ 40°C
Protection: Over Power Protection
Over Voltage Protection
Short Circuit Protection
Over Temperature Protection
Over Current Protection
Connectors:
1 x 24 / 20-Pin motherboard connector(300mm)
1 x 8 / 4-Pin EPS / ATX 12V connector(400mm)
2 x 8 / 4-Pin EPS / ATX 12V connector(400mm / 150mm)
4 x 8 / 6-Pin PCIE connector("400mm / 150mm" x 2)
8 x SATA connector("300mm / 200mm / 100mm / 100mm" x 2)
3 x 4-Pin Peripheral connector(300mm / 200mm / 200mm)
Cooling System: Single 92mm dual ball bearing fan
Form factor: SFX
Noise Level: 0 dBA minimum
Dimension: 125 mm (W) x 63.5 mm (H) x 100 mm (D)
92" (W) x 2.5" (H) x 3.94" (D)
Weight: 1.01 Kg
Certification: 80 PLUS Platinum