SilverStone ST1500-Ti Strider 80 Plus Titanium Power Supply Review
SilverStone ST1500-Ti Strider 80 Plus Titanium Power Supply Review
Author:

Dennis Garcia
Published:
Friday, April 26, 2019

Introduction
Recently I put together build for a couple of events and wanted to go a little overboard when it came to the components. I started with a fully watercooled motherboard and stuffed that inside a special edition MasterCase Maker 5T case. To top it off I added a GTX 1080 Classified video card and some RGB lights. Given the high-end nature of this build I wanted to do something special with the power supply. It needed to be over 1000w with modular cables and to prove I cared about the environment it needed to be super efficient and for most people that means 80 Plus Gold.
Well, I'm not most people
In this review I'll be giving you an overview of one of the most impressive power supplies I have ever used, the SilverStone Strider 1500w Titanium. This is an 80 Plus Titanium power supply offering the highest efficiency rating available that can convert over 90% of the consumed power into usable electricity instead of heat.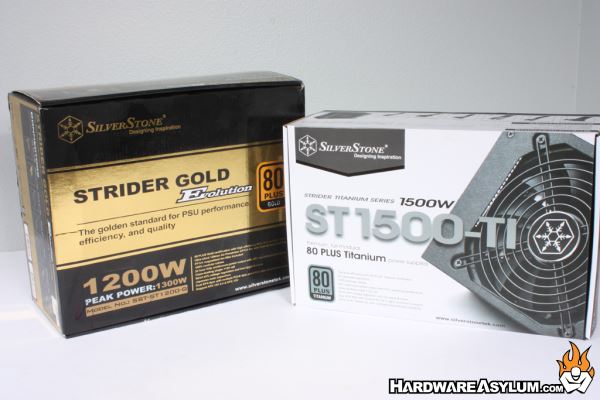 Overall, this translates into lower temperatures and near silent operation in any system. For those looking to build the most efficient systems possible with multiple GPUs for gaming, folding, mining, scientific calculations, or machine learning, the 1100W / 1300W / 1500W Strider Titanium series power supplies are definitely the top choices.
Special Features
Top-level efficiency with 80 PLUS Titanium certification
All Japanese capacitors
100% modular cables
24/7 continuous power output with 50? operating temperature
Class-leading single +12V rail
Strict ±3% voltage regulation and low ripple & noise
Dual EPS 8pin with multiple PCI-E 8 / 6pin connectors support
Ultra silent 135mm fan with intelligent semi-fanless operation
Specifications
Model No. SST-ST1500-TI
Max. DC Output 1500W (Peak 1600W)
Power density 646W per liter
Color Black (lead-free paint)
Combined +12V 1500W
Input Voltage 90 ~ 264 Vrms
Input Frequency Range 47Hz ~ 63Hz\
PFC Active PFC (PF>0.9 at full load)
Efficiency 90% ~ 94% at 10% ~ 100% loading
MTBF 100,000 hours
Operating temperature 0 ~ 50°C
Protection OCP / OPP / OVP / OTP / UVP / SCP
Cooling System Single 135mm silent fan
Noise Level 0 ~ 36 dBA
Dimension 150 mm (W) x 86 mm (H) x 180 mm (D) / 5.91" (W) x 3.39" (H) x 7.09" (D)
Weight 3.96 kg
Certification 80 PLUS Titanium