SilverStone ST1500-Ti Strider 80 Plus Titanium Power Supply Review
SilverStone ST1500-Ti Strider 80 Plus Titanium Power Supply Review
Author:

Dennis Garcia
Published:
Friday, April 26, 2019

Conclusion
As overclockers and enthusiast system builders we often look for the highest capacity PSUs for our systems, not because we need them but because we want to make sure everything has adequate power. 80+ PLUS rated PSUs deliver on those desires and do so with less heat, better overall efficiency and in some cases, higher peak loading conditions above the rated power specs. Most mfgs will give you a suggestion on what size PSU to pick with a pretty large buffer..

The Strider Titanium PSUs are the current top of the line at SilverStone with configurations starting at 1100w and ending at 1500w. All feature 80+ Titanium certifications and a single 12v power rail designs up to 125A like found on this 1500w edition.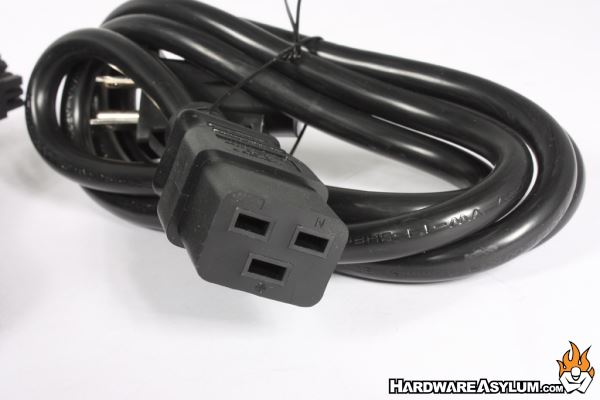 Overall I like the SilverStone Strider Titanium for a number of reasons. The modular design is nice along with the overall style especially the wire fan grill. I find the stamped metal grills to be a little "tacky" and give the PSU a cheap look. Another nice option is the monster power cable with a special plug. These are a nice addition to compliment the 1500w power handling but, do require that you actually take the power cable when you move your machine. I would have liked to see locking or solid plugs on the 20+4 ATX and 4+4 CPU power connectors since the +4 tends to be the exception on most modern systems, especially those needing a 1100w+ PSU.
Installation was really quite easy however; I did run into one situation. When I was putting the for mentioned system together it required two 8-pin CPU power cables, which is fine given that the Strider supports two. The issue was the length of the cable. The longer cable was perfect leaving the short cable worthless to me.
Fortunately I had a second set of PSU cables handy and was able to make the build work. Truth be told I could have run the system with only one 8-pin CPU power cable connected but in this case it was the principle that annoyed me.
Speaking of cables, the wires included with the Strider Titanium are all of the flat ribbon variety which have been considered a good thing by many system builders. The idea is that since they are easier to run and will take up less space. They do require more time to run and once you figure out where the cable needs to go you can fold or roll the cables to make them fit.
Good Things
80+ Titanium Rating
4-way Video Card Support
1500w Peak Power Output
Silent 135mm Fan
Fully Modular Design
Flat Ribbon Cables
Optional Cable Lengths Available
Bad Things
Awesome power but quite heavy
Special power cable
Both 12v CPU power cables should be the same length
Flat ribbon cables take longer to route
Hardware Asylum Rating