Sound Blaster X5 Hi-Res Dual DAC USB Sound Card review
Author:

Darren McCain
Published:
Friday, May 5, 2023

Introduction
As an audiophile and gamer, I have long been a fan of the Creative Sound Blaster line. While many prefer an internal sound card, I love the versatility of a good external setup to swap between headphones and my desktop speakers. I have depended on my Sound Blaster X7 for almost 7 years waiting for the next generation of external sound cards to arrive.
The wait is over.
Today we will be looking at the new Sound Blaster X5 Hi-res External Dual DAC USB Sound Card with Fully Balanced Xamp Headphone Bi-amplifier for Audiophiles. The X5 is the current top of the Creative external DAC/Amp line and offers a fully featured solution for all your PC and console audio needs.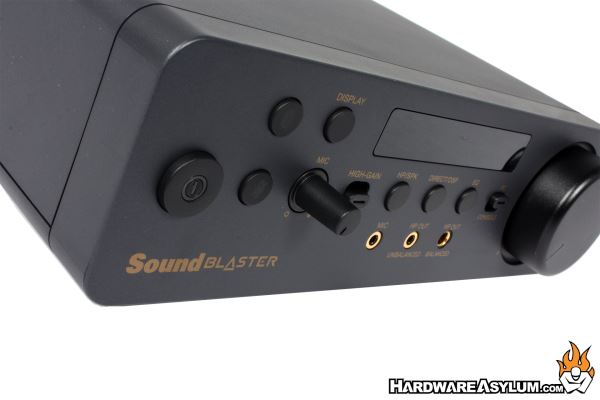 The Sound Blaster X5 features dual Cirrus Logic CS43198 DACs and a custom, fully balanced Xamp headphone bi-amplifier all in an attractive black and gold package. The overall look is clean with every function clearly labeled.
Unlike my X7, the new X5 design looks like a miniature home audio component. It measures in at just 216 x 170 x 72 mm (8.5 x 6.69 x 2.83 in) and weighs only 879g (~1.9 lbs.). I now have visions of stackable system of amps and DACS direct from Creative?!?
Specifications
Headphone Output Power (Unbalanced)
98 Vrms (60 mW) @ 16Ω
47 Vrms (65 mW) @ 33Ω
11 Vrms (112 mW) @ 150Ω
14 Vrms (52 mW) @ 330Ω
15 Vrms (29 mW) @ 600Ω
Headphone Output Power (Balanced)
18 Vrms (86 mW) @ 16Ω
90 Vrms (109 mW) @ 33Ω
86 Vrms (313 mW) @ 150Ω
25 Vrms (206 mW) @ 330Ω
28 Vrms (114 mW) @ 600Ω
Remote Control (BLE): Android devices, iOS devices
Headphone Amp: 16–600Ω
Dynamic Range (DNR): 130 dB
Audio Technology: Sound Blaster Acoustic Engine
Connectivity Options (Main):
1 x TOSLINK Optical In
1 x TOSLINK Optical Out
1 x RCA Line-in
1 x RCA Line-out
1 x 3.5 mm Headphones-out (Unbalanced)
1 x 4.4 mm Headphones-out (Balanced)
1 x 3.5 mm Mic-in
1 x USB-C port of PC/Mac/PS4/PS5
1 x USB-A Host Audio-out port
Headphone Amp: 16–600Ω
Max Channel Output: Stereo
Audio Technologies:
Supported Operating Systems:
Mac OS X v10.5 and above
Windows® 11
Windows® 10 Ver 1703
DAC:
2 x Cirrus Logic CS43198 high-resolution DAC
PCM 32-bit / 384 kHz playback
DoP 64, 128 support, DSD 64, 128, 256 support
THD: -115 dB, DNR: 130 dB
ADC: DNR: 114 dB, THD+N: -105 dB
Power: USB-C
Recommended Usage:
Creative is the worldwide leader in digital entertainment products. Founded in Singapore in 1981, Creative started with the vision that multimedia would revolutionize the way people interact with their PCs.
Famous for its Sound Blaster sound cards and for launching the multimedia revolution, Creative is now driving digital entertainment with cutting-edge audio solutions, premium wireless speakers, high performance earphone products and portable media devices. The company's innovative hardware, proprietary technology, applications and services enable consumers to experience high-quality digital entertainment - anytime, anywhere.
Since launching the phenomenally successful Sound Blaster sound cards and setting the de-facto standard for PC audio in 1989, Creative has been able to leverage on its leading-edge audio technology, a huge user base of 400 million, and strong brand name to expand into the exciting lifestyle Personal Digital Entertainment (PDE) market.