Creative Sound Blaster X7 and E-MU XM7 Speaker Review
Author:

Darren McCain
Published:
Friday, September 30, 2016

Introduction
With motherboard manufacturers moving more and more features onboard it is becoming harder to justify add on sound cards. Creative is no exception and has been offering their award winning sound processing out to manufacturers as a high quality alternative. But, for those of you still looking for something more, Creative has the Sound Blaster X7.
The Creative X7 is definitely more than just a sound card. Creative bills the X7 as an ultra-High Resolution Audio (HRA) device that acts as an external USB DAC and a powerful audio amplifier with low-latency Bluetooth connectivity and Dolby Digital decoder. And for not much more you can bundle the X7 with a set of Creatives E-MU XM7 Speakers that are specifically designed to match.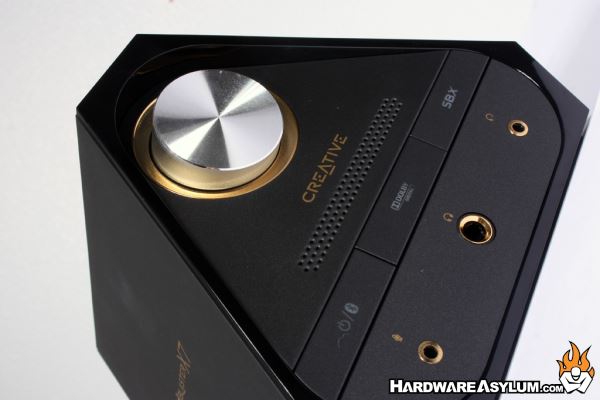 Creative offers the Sound Blaster X7 in two different models. The Black version that you see here and a Pearl White trimmed X7 Limited Edition. The Limited Edition model shares the same features but adds an exclusive 1 ohm headphone amp output impedance, with a nice kick of extra audio amplification bring it up to 100Wpower (2 x 50W @ 4?). Our Black edition weighs requires an upgraded power supply to match that, sold separately. Both X7 models are built around the award winning advanced SB-Axx1 audio processor.
Let's take a closer look at just what the Creative X7 brings to the table.
Features
NFC-Enabled Bluetooth with Mulitipoint
HD Audio Codecs
Dolby Digital Decoding
SBX Pro Studio Technologies
Crystal Voice Technologies
Next Generation Sound Blaster Processor
Audiophile-Grade Headphone Amplifier
24-bit/192kHz Stereo Direct Output
High Resolution 127dB DAC
100W-Capable Audio Amplifier
Beamforming Mic
USB Playback and Charging
Scout Mode – Hear them before they can hear you
Customizable Profiles for your Music, Movies and Games
Specifications
Audio Technology: SB-Axx1™
Signal-to-Noise Ratio (SNR): 127dB (DAC)
Connectivity Options (Main): microUSB
- Microphone : Built-in Stereo Mic (3.5mm) Mic In
Line / Optical :
- 1 x RCA Aux/Line In
- 1 x TOSLINK Optical In
- 1 x TOSLINK Optical Out
Speaker :
- 2 x Binding Post Passive Speaker Out (L/R)
- 1 x RCA Line/Front Speaker Out
- 1 x 1/8" (3.5mm) Rear Speaker Out
- 1 x 1/8" (3.5mm) Center/Sub Speaker Out
Headphone :
- 1 x 1/8" (3.5mm)Headphone Out
- 1 x 1/4" (6.3mm)Headphone Out
USB HOST : 1 x Type A USB Host Port - Device Audio Stream & Charging
Max Channel Output 5.1 Channels, Stereo Amplified
Audio Technologies: SBX Pro Studio, CrystalVoice, Scout Mode, Dolby Digital Technology
Microphone: Dual-array Noise Canceling Condenser
PACKAGE CONTENTS
Sound Blaster X7 Device
Quick Start Leaflet
WW Warranty Leaflets
24V/2.91A AC-DC Power Adaptor and cable
RCA to 3.5mm Stereo Cable for Front Out
RCA to 3.5mm Stereo Cable (Female) for Line-In
microUSB Cable 1.5m
Headphone Stand
Creative is the worldwide leader in digital entertainment products. Founded in Singapore in 1981, Creative started with the vision that multimedia would revolutionize the way people interact with their PCs.
Famous for its Sound Blaster sound cards and for launching the multimedia revolution, Creative is now driving digital entertainment with cutting-edge audio solutions, premium wireless speakers, high performance earphone products and portable media devices. The company's innovative hardware, proprietary technology, applications and services enable consumers to experience high-quality digital entertainment - anytime, anywhere.
Since launching the phenomenally successful Sound Blaster sound cards and setting the de-facto standard for PC audio in 1989, Creative has been able to leverage on its leading-edge audio technology, a huge user base of 400 million, and strong brand name to expand into the exciting lifestyle Personal Digital Entertainment (PDE) market.