Creative Sound Blaster X7 and E-MU XM7 Speaker Review
Author:

Darren McCain
Published:
Friday, September 30, 2016

Creative E-MU XM7 Bookshelf Speakers
Before we get too much further, let me introduce you to the Creative E-MU XM7 Bookshelf Speakers. These passive speakers were designed specifically for the Creative X7 and can be purchased together or separately.
Creative has added a nod to the original E-mu systems into the name of the XM7s. E-mu was a pioneer in synthesizer and sampling acquired by Creative Technolgy in 1993. E-mu designed and published a series of high-fidelity computer sound cards intended for professional, semi-professional and computer audio enthusiast use with the 'm' designation used to identify the extra high quality products.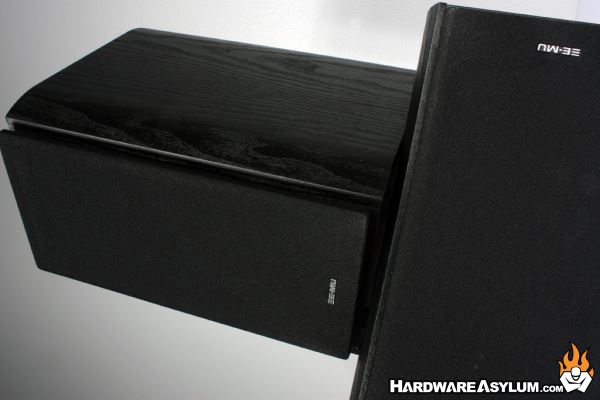 The E-MU XM7 speakers come in the black wood grain finish you see here and an attractive brown wood grain with metallic grey accents. Each speaker measures in at 232.0 x 174.0 x 298.0 mm (9.14" x 6.85" x 11.7") which is slightly smaller than my current Paradigm Titan V4s but hardly the smallest pair I have owned.
Specifications
System Configuration: 2-way
Power Output: Max 60W per channel
Drivers:
- Woofer: 5" (132 mm) special combination diaphragm with oversized magnetic structure and shielding
- Tweeter: 1" (25 mm) silk dome tweeter
Dimensions: Each Speaker: 232.0 x 174.0 x 298.0 mm (9.14" x 6.85" x 11.7")
Weight Each: Approx 4.35kg
Included Accessories: 2 x Soft Grilles, 2 x Speaker Cable 2.4m, User Manual
Movies / Music: Yes
Connector Type: Gold-plated binding posts
Color: Brown wood grain with metallic grey finish / Black wood grain finish
Design: Passive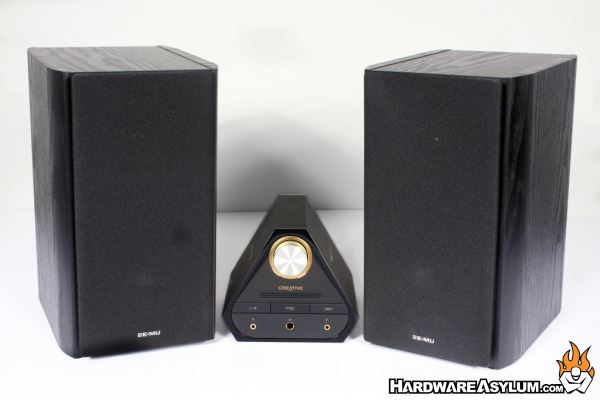 Creative has designed the XM7s with the X7 in mind and often markets them together as a package; the Sound Blaster X7 Home Entertainment System. The Max 60W power rating falls directly in line with both the Black X7 and the more powerful X7 Limited Edition. I have to admit I think they make a striking team. This may be the first time I wondered if there is such a thing as overkill when it comes to my PC audio setup!
At the core of the XM7 design you will find a 5" woofer with an oversized, sealed magnetic structure and a 1" silk dome tweeter paired with an almost 3" rear facing port. The feeling of quality is reinforced by the almost 5 pound weight of each speaker. The black mesh covers are held in place by four rubber sockets. Like the X7 each speaker has a set of rubber feet to hold it firmly in place and reduce noise transfer.
The back side reveals the ample porting that can really bring some life to the bass if positioned to take advantage. I found a minimum of about 8" makes a noticeable difference in the sound profile. Connectivity is handled by a set of gold plated binding posts that match the connectors on the X7 making wiring a breeze.