Creative Sound Blaster X7 and E-MU XM7 Speaker Review
Author:

Darren McCain
Published:
Friday, September 30, 2016

Creative Sound Blaster X7: Under the Hood
There is so much technology inside the Sound Blaster X7 it needs a separate section! With a little help from Creative's website we will try to hit the highlights for those that are into the details!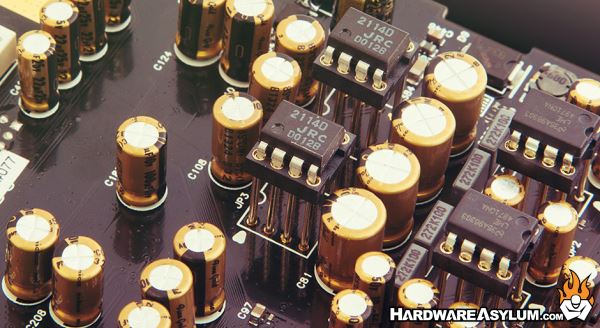 Let's start with the SB-Axx1™ multi-core Digital Signal Processor (DSP) which is capable of voice processing, audio restoration, proprietary effects processing and is also a certified Dolby Digital 5.1 decoder. It has a special patented EMU32 bus capable of processing up to 32 concurrent audio streams. This allows the Sound Blaster X7 to handle multiple audio inputs and outputs.
In addition, a proprietary audio chip helps the Sound Blaster X7 achieve audiophile-grade audio playback from stereo to 5.1 configurations at up to 24-bit 192kHz.
The Sound Blaster X7 features a Burr-Brown PCM1794 127dB digital-to-analog converter (DAC) which supports high-resolution audio playback of up to 24-bit 192kHz when connected to PC/Mac, including 24-bit 88.2kHz and 24-bit 176.4kHz. Coupled with a built-in Dolby Digital decoder, the Sound Blaster X7 lets you experience cinematic true-to-life 5.1 channel playback.
To provide an outstanding headphone listening experience, a top-of-the-range Texas Instruments TPA6120A2 headphone amplifier chip is used. Capable of driving high-end 600? headphones, the Sound Blaster X7 — together with its 127dB 24-bit 192 kHz DAC — delivers powerful and pristine audio. Say goodbye to days of lackluster audio playback through your headphones.
No effort was spared in the selection of the finest audiophile grade components to complement our renowned in-house audio technologies. The Sound Blaster X7 comes with superior class Nichicon "Fine Gold" capacitors.
Sound Blaster X7 is amazingly customizable — it features the option to swap op-amps. Op-amps play an essential role in amplifying the delicate analog signals and also influence the overall audio texture. Users may have their preferences for a certain tonal characteristic. With the Sound Blaster X7, you can easily swap the op-amps (available separately) to define your music's tonal characteristics to your heart's content.
Swapping Opamps
Ok, I have to admit I haven't felt the urge to swap out an opamp (operational amplifier) since I last built a home theater system based around an Auzen X-Fi Prelude 7.1 back in like 2007. Replacing Op-amps often called "rolling opamps" is the process of replacing the onboard opamps in order to change the sound quality. Changes can be subtle and require care to select a replacement that is compatible.
Swapping out the opamps is quite simple on the X7 through a cover on the bottom. The bundled pair on the left is the 2nd stage single DIP op-amps (LME49710) while the bundled pair on the right is the 1st stage dual DIP op-amps (NJM2114D). You will need a steady hand and a set of pliers or an IC extractor. That's that little tweezers like tool that comes in every computer tool kit. Finally you know what to use it for!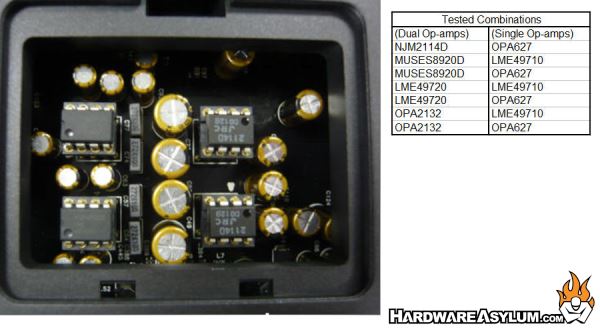 Opamps must be replaced in pairs and creative provides a short list of tested combinations:
Some searching around the web provides some insight into what people are trying successfully. There is also a wide variety of posts attempting to debunk the need to make changes. The good news is replacements are relatively cheap and a good pair can be found for under $10 if you want to experiment for yourself. Just be sure to use the correct type of opamp or you might end up down grading your sound or worse damaging your X7!
My opinion, manufacturers like Creative test their products to provide the best sound possible. A low cost opamp is simply not going to be where any trusted engineer is going to skimp on parts.