Creative Sound BlasterX G5 7.1 External Gaming Audio DAC Review
Author:

Dennis Garcia
Published:
Monday, February 29, 2016

Introduction
Sound cards come in many shapes and sizes and have changed quite a bit since the early days of computing. These days just about every motherboard comes with a sound card onboard and many design their audio solution as a selling point with exotic components, high-end software or both. For the casual gamer rocking a custom PC the onboard solution is usually good enough, assuming they have a supporting speaker system.
For those lacking a full surround sound system an easy solution is to use a high quality set of headphones. By nature all headphones are designed to be stereo, we only have two ears afterall, so there is a challenge to simulate surround sound. One solution is to use multiple drivers but these can have issues interfacing with your computer or come with an attached audio controller and can only be used on a PC.
In this review I'll be looking at an ingenious audio solution from Creative called the Sound BlasterX G5. The G5 is an external sound card and headphone amplifier that can be used on a variety of different systems including the PC, Mac, Android, iOS, PS4 and Xbox One.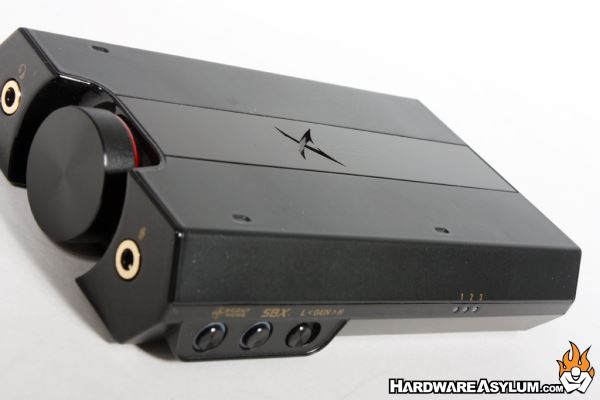 The versatility of the G5 is in how it connects to the various different systems, and depending on that connection can offer some amazing audio features beyond what the base system can support.
Specifications
Signal-to-Noise Ratio (SNR) 120dB (DAC)
Connectivity Options
- (Main) microUSB
- Line / Optical In: 1 x 3.5mm jack
- Line / Optical Out : 1 x 3.5mm jack
- 4-pole Headphone-out with Mic: 1 x 3.5mm jack
- Dedicated Mic In : 1 x 3.5mm jack
Headphone Amp Up to 600 Ohms
Max Channel Output Stereo
Audio Technologies Scout Mode
Supported Operating Systems Mac OS X v10.8 and above, Windows® 10, Windows® 8.1, Windows® 8, Windows® 7, Windows Vista®