Creative Sound BlasterX H7 Gaming Headset Review
Author:

Dennis Garcia
Published:
Monday, July 04, 2016

Introduction
There are some important features that every gaming headset should have and for me the top of the list is comfort as that will dictate how long you play. Some may argue that sound quality or features are what define a gaming headset but, if the headset doesn't fit well or becomes uncomfortable after a short while that isn't good.
In this review I'll be looking at the Creative BlasterX H7 Gaming Headset. The H7 is a lightweight mid-level gaming headset that features a comfortable over ear speaker design, large 50mm stereo drivers, removable microphone and in-line audio processor. It can be used on a variety of systems from PC and game consoles to mobile devices such as phones and tablets. Unlike a traditional headset you can also store sound profiles on your H7 and use those wherever you play.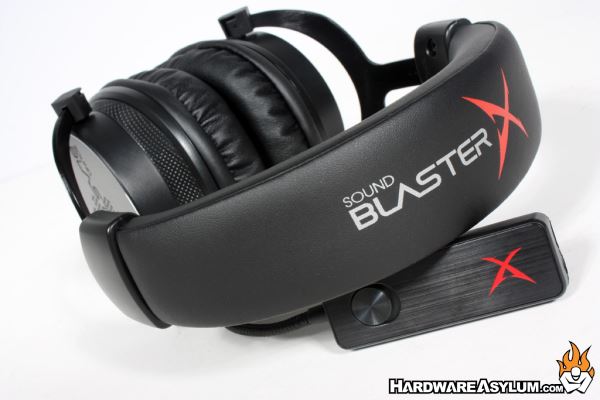 Specifications
Audio Processing BlasterX Acoustic Engine Pro
Audio Drivers 50mm FullSpectrum
Audio Technologies BlasterX Acoustic Engine Pro, Scout Mode
Headset Frequency Response 20Hz ~ 20kHz
Interface 3.5mm Stereo Input, USB
Supported Operating Systems for Windows
Supported Gaming Consoles PlayStation® 4 via 3.5mm 4-pole audio cable, Xbox One™ via 3.5mm 4-pole audio cable (With Xbox One Stereo Headset Adapter)
The Sound BlasterX H7 is a hybrid stereo headset that is designed to be lightweight and very durable. A traditional headset would be limited to analog connections however, with the H7 you get dual options for connecting to your devices. On the PC the H7 is a full USB headset with an inline audio processor. When connected in analog mode using the 4-pole 3.5mm audio cable it becomes a traditional headset giving you the flexibility to connect to any device, not just a PC.
As I mentioned before the most important thing for me is comfort and the H7 accomplishes this in a variety of ways. The first is the soft leatherette and memory foam found on both the ear pads and around the headband
The headband itself is a composite spring under the padding making the entire assembly lightweight a very durable. In terms of adjustment you will find two stainless steel brackets on each side with 12 points of adjustment which can fit small toddlers up to many oversized adults with a preference for the growing teen.
Incidentally this age (The Growing Teen) bracket is also the largest gamer market that can benefit from a quality headphone.