Creative Sound BlasterX H7 Gaming Headset Review
Author:

Dennis Garcia
Published:
Monday, July 04, 2016

Testing and Conclusion
When testing the Creative Sound BlasterX H7 Gaming Headset I did so over the course of two weeks mostly playing the new DOOM and some Borderlands 2. Since I was gaming on the PC the H7 was connected using the included USB cable and configured using the X-Plus software with a first-person audio profile.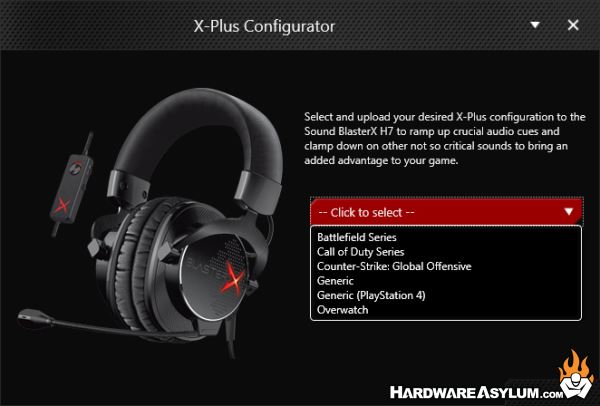 During my testing I effortlessly wore the H7 Headphones for the entire gaming session and at one point forgot I was wearing them. Sound isolation wasn't perfect but worked well enough to drown out background noise from the occasional car and allowed me to focus on what was happening in the game. Of course adjusting the overall volume can accomplish the same thing however, when playing at home it is important to also be aware of your surroundings and excess volume can be counterproductive. The H7 strikes a good balance between the two.
When connected directly to my PC using the analog connection the BlasterX H7 was much quieter than my Pioneer HDJ-2000 headphones that I normally use. These are a high quality DJ style headphone with sensitive drivers. The BlasterX H7 was not as sensitive and required more wattage to drive the same sound pressure. This wasn't evident when using the USB connection indicating that the sound module was also acting as an inline amplifier, win-win.
Sound quality was exceptionally good. I say that knowing that while my ears are still sensitive I am no audiophile but can recognize subtitle things in the audio stream. Overall I was impressed with the level of clarity and definition the H7 brought to my games. I was a little disappointed that the X-Plus software only came with six audio profiles. They do cover the major game genres allowing you a few options to try out.
Good Things
Comfortable Headset
Lightweight
Good Sound Quality
Detachable Microphone
Dual Connections over Analog and USB
X-Plus Profiles
Bad Things
X-Plus needs more profiles
Hardware Asylum Rating