Creative iRoar Go Portable Speaker Review
Author:

Dennis Garcia
Published:
Wednesday, December 14, 2016

Creative iRoar Go Layout and Features
In this review I'm going to resist calling the iRoar Go a "Bluetooth speaker" because it is more than that. Instead it will be referred to as a smart portable speaker system sharing traits with a compact boombox with Bluetooth and NFC connectivity.
The iRoar Go follows the familiar rectangle form factor found on the original Roar with the controls across the top and speakers occupying the grilled area below. Like with all Roar based speakers there are a total of 5 drivers in this device, three active being powered by two independent amplifiers and two being passive radiators.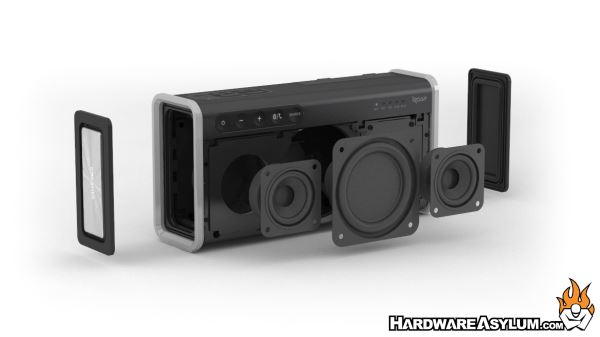 Unlike previous Roar speakers the iRoar Go can now be placed vertically, as shown here, leaving all of the controls and connections facing up. On previous Roar devices the woofer and high-end speakers were facing 90 degrees from each other making a vertically placement impractical.
On the iRoar Go all three active speakers are located on the same panel and is one way that Creative was able to get an IPX6 rating of water resistance.
All of the controls feature rubber dome buttons giving them tactile feel and do a great job at keeping water and dust out. The built-in controls give you easy access to your playlist allowing you to skip forward and back, repeat, pause and play. If you need to record something simply press the record button and if you need more control over your recording it supports an external microphone.
The main buttons support power, Bluetooth connections and phone controls, volume up and down along with a source select between all of the available sound sources.
The external connections are hidden behind two separate rubber flaps and when closed will keep water and dust out. This works if you are using a microSD however having power and/or flash drives plugged in will negate this.
Two of the five drivers in the iRoar Go are passive in nature and can be seen from the side of the device. The centers featured a machined finish and are accented by brushed aluminum rings for added style and protection. These passive drivers put out a good amount of extra bass and help make up for what is lost when using a smaller woofer.