Creative iRoar Go Portable Speaker Review
Author:

Dennis Garcia
Published:
Wednesday, December 14, 2016

iRoar Go Testing and Conclusion
In this review I looked at the Creative Labs iRoar Go. This is a smart portable speaker system designed to be used in a variety of situations from a gamer that normally plays with headphones to an office worker who is allowed to play music at a reasonable volume from 9 to 11. Of course you can do this with any Roar and what makes the iRoar Go unique is that it really is designed for people on the go.
For starters the iRoar Go is smaller than a standard Roar allowing it to be carried around easily and comes with a water resistance rating of IPX6. You won't be able to fish it out of a lake but with an IPX6 rating you'll be able to use it in a light rain and not worry so much about dust getting into hard to reach places. Convenience features like 12 hours of battery life and the ability to charge mobile devices can go a long way if you are on camping trip and the option to convert the iRoar Go into a PA system might help when you get lost.
Sound quality with the iRoar Go is exceptional for a device this size and I was really impressed with the dynamic range and bass response. I did find the audio quality to be a little bass heavy in some situations which can be a product of the passive radiators doing their job to expand bass response. Using the Creative Blaster Connect I was able to adjust the sound quality to be more even and eventually found a profile I enjoyed for both Internet radio and the Hardware Asylum Podcast.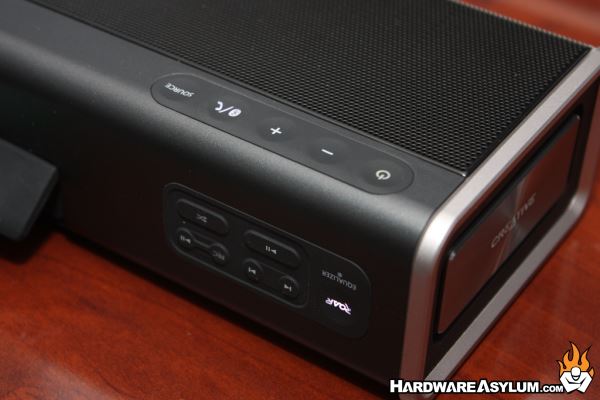 What needs to be made clear about the iRoar Go, and the entire Roar series for that matter, is that while you can pair with the device using Bluetooth it is not your average Bluetooth speaker system. In fact it has more in common with a standard boombox than a typical Bluetooth speaker and comes with a whole list of additional features. Of course the main reason to get one is audio which can be played wirelessly or from a microSD or flash drive. The iRoar Go supports storage cards up to 32GB and will play common audio formats such as MP3, WMA, FLAC and WAV. MP3 and WMA are limited to 320kbps while FLAC is supported up to 1.3Mbps.
Good Things
Best in Class Sound Quality
Portability
App support
Connects to everything
Water Resistance IPX6
12 Hours Battery Life
Bad Things
Requires microSD card for many functions
Some audio is bass heavy
Hardware Asylum Rating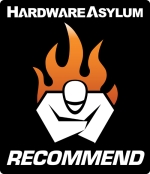 Creative iRoar Go Portable Speaker Review
Recommend
https://www.hardwareasylum.com