Creative iRoar Go Portable Speaker Review
Author:

Dennis Garcia
Published:
Wednesday, December 14, 2016

Introduction
The Creative Labs Roar series of speakers is a story the redefines what a portable speaker system can be. In 2014 Creative Labs announced their first portable speaker simply called Roar. This tiny speaker system featured a wide variety of features including Bluetooth and NFC connectivity, 5 drivers powered by two amplifiers and a high capacity battery. In terms of price and features it was easily the most powerful portable speaker on the market.
2015 saw the release of the Roar 2 and Roar Pro. Both of these devices built on the success of the Roar by adding more features more options and a better overall experience.
Earlier this year we reviewed the Creative Labs iRoar which is not only the most expensive Roar based speaker but also one of the most advanced allowing devices to be linked together to create MegaStereo and even has an optional subwoofer accessory called the iRoar Rock. Given the size and cost the iRoar we reviewed was better served as an in-home audio device over a portable speaker system which moves us away from a practical portable speaker system.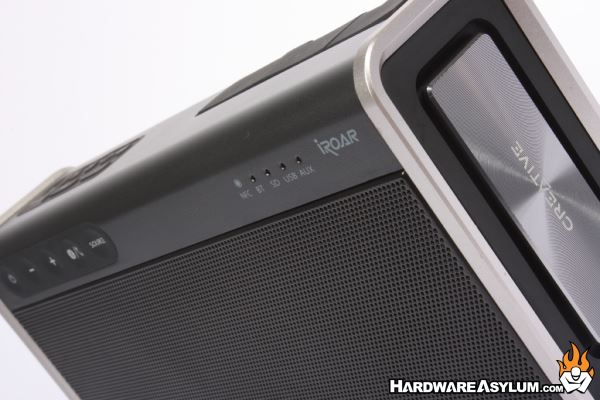 In this review I'll be looking at the Creative Labs iRoar Go. This is a new version of the iRoar that is designed to be smaller, IPX6 water-resistant and better suited for people on the go.
Specifications
System Configuration: One-piece
Dimensions (H x W x D): 54 x 192 x 97 mm, USB Cable Length: Approx 0.7m
Weight: 810g (28.5oz)
Bluetooth Version: Bluetooth 4.2
Bluetooth Profile: A2DP (Wireless Stereo Bluetooth), AVRCP (Bluetooth Remote Control), HFP (Hands-free Profile)
Supported Codecs: AAC, SBC
Connector Type: Bluetooth, AUX-in, USB
Color: Black
Near Field Communication (NFC): Supports NFC
Design: Bi-amplified Design
Battery Type: Built-in Li-ion, 5200mAh
Battery Life: 12 hours
Creative is the worldwide leader in digital entertainment products. Founded in Singapore in 1981, Creative started with the vision that multimedia would revolutionize the way people interact with their PCs.
Famous for its Sound Blaster sound cards and for launching the multimedia revolution, Creative is now driving digital entertainment with cutting-edge audio solutions, premium wireless speakers, high performance earphone products and portable media devices. The company's innovative hardware, proprietary technology, applications and services enable consumers to experience high-quality digital entertainment - anytime, anywhere.
Since launching the phenomenally successful Sound Blaster sound cards and setting the de-facto standard for PC audio in 1989, Creative has been able to leverage on its leading-edge audio technology, a huge user base of 400 million, and strong brand name to expand into the exciting lifestyle Personal Digital Entertainment (PDE) market.