Creative T60 Compact Hi-Fi 2.0 Desktop Speaker Review
Author:

Darren McCain
Published:
Monday, August 23, 2021

Testing and Conclusion
Testing audio quality is very subjective and cannot be measured without thousands of dollar's worth of equipment. Even then, no two people hear sound quite the same way. Still comparing audio provides a way to determine how clearly you might hear different instruments on a music track or how well you can identify direction in a surround sound game.
To test the T60 speakers I connected first to our Sound Blaster X7 via the Aux cable. I ran through the usual selection of FLAC titles to really get an idea of the range. Overall I found the sound crisp and clean if not as full ranged as my normal desktop setup. Voices were very clear, even without the software.
Next I connected directly to my PC via USB C to test with and without the software installed. I played music from a variety of sources and again found the T60s one of the most clear sound reproductions in the Creative Txx line. I would describe it as a well-balanced sound.
With the software installed and a simple EQ enabled the T60 speakers really shine! Sound is well defined with great reproduction across the mids and highs. While I do miss the subwoofer, most casual music fans will find everything they need here.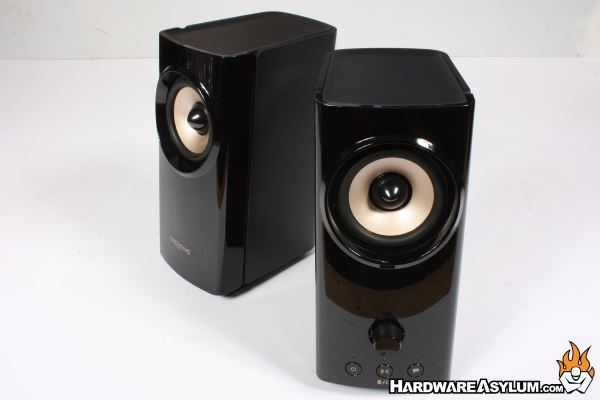 It's no secret I love Creative products. Not only do they have consistent quality, they just work as advertised! The T60 speaker set is no exception. They excel as a competent set of PC bookshelf speakers. But they also excel as the core of a work from home communications hub. On top of that the T60 speakers won't break the bank.
I just cannot imagine anyone still using onboard speakers from you work issued laptop when a set of T60s can elevate your game.
Sure you won't get the home theater sound of a full featured set like the Sound Blaster Kratos S3 set, but you won't break the bank and you can still hook that Zoom headset up when it's time to get serious!
Good Things
Attractive design
Surprising sound quality
outstanding communications control
Connectivity options
Bad Things
No dedicated subwoofer
Software required for some functionality
No remote