Creative T60 Compact Hi-Fi 2.0 Desktop Speaker Review
Author:

Darren McCain
Published:
Monday, August 23, 2021

Introduction
As many of us transition to working from home, finding ways to make our home office setups more 'comfortable' can be a priority. No one should have to suffer with the default sound found in today's laptops! For just a few dollars, you can get better sound and communication for audio and conference calling!
Creative has the solution you are looking for. The T60 Hi-Fi Desktop speakers are specifically designed to give your home office the boost you need and they offer the same great sound Creative is famous for too.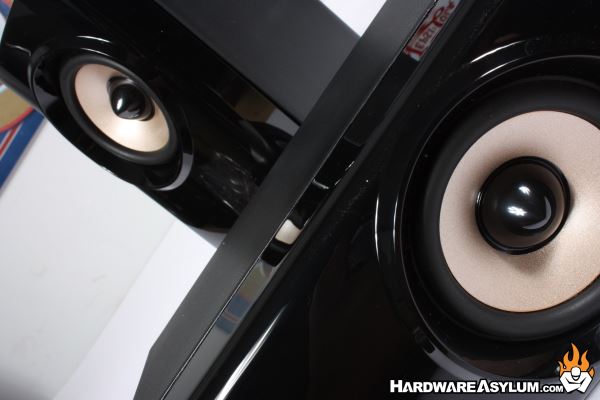 The Creative T60 sports a glossy finish up front and attractive exposed speakers reminiscent of the classic GigaWorks branded T40 and T20s. No covers or grills are provided. Creative branding is minimal and reserved for the left speaker. The overall look is classy and gives the appearance of speakers costing much more.
Specifications
Dimensions:
Left Satellite: 147 x 92 x 199 mm / 5.79 x 3.62 x 7.84 inches
Right Satellite: 157 x 92 x 199 mm / 6.18 x 3.62 x 7.84 inches
Cable Lengths:
Satellite: 2.0m / 6.56 ft cable molded to Left Satellite
USB-C to USB-C Cable (Cable Length: 1.2m / 3.94 ft)
5 mm Stereo to Stereo Cable (Cable Length: 1.2m / 3.94 ft)
Weight: 1.9 kg / 4.18 lb
Operating Temperature: 0—45°C
Power Output:
2 x 15W RMS
Total System Power: Up to 30W RMS
Peak Power 60W
Drivers: Dual 2.75" Speaker Drivers
Frequency Response: 50–20,000 Hz
System Configuration: 2.0 system
Signal-to-Noise Ratio (SNR): ≥ 75 dB
Bluetooth Operating Frequency: 2402–2480 MHz
Creative is the worldwide leader in digital entertainment products. Founded in Singapore in 1981, Creative started with the vision that multimedia would revolutionize the way people interact with their PCs.
Famous for its Sound Blaster sound cards and for launching the multimedia revolution, Creative is now driving digital entertainment with cutting-edge audio solutions, premium wireless speakers, high performance earphone products and portable media devices. The company's innovative hardware, proprietary technology, applications and services enable consumers to experience high-quality digital entertainment - anytime, anywhere.
Since launching the phenomenally successful Sound Blaster sound cards and setting the de-facto standard for PC audio in 1989, Creative has been able to leverage on its leading-edge audio technology, a huge user base of 400 million, and strong brand name to expand into the exciting lifestyle Personal Digital Entertainment (PDE) market.