HyperX Savage EXO Portable SSD Review
Author:

Dennis Garcia
Published:
Tuesday, December 04, 2018

Introduction
By now everyone should be familiar with Flash or Thumb drive. They are cheap, super easy to use and work in just about every device from desktop PCs to servers, mobiles phones and tablets. Before the advent of flash drives we had portable hard drives and the ever popular floppy disk. Things have come a long way since the days of the floppy disk and despite the size and storage capacity they suffer from one fatal flaw. They are darn slow!
Most of the time we don't notice the speed issues unless you have a rather large file to move. In those instances you spend more time looking at the clock while waiting for the progress bar move. Personally I find that an external hard drive is often faster than a flash drive as you get all the benefits of rotational storage and the portability of a flash drive.
In this review I'll be showing you the new HyperX Savage EXO portable SSD. This was a device we saw during CES 2018 and is clearly the right solution for the external storage problem.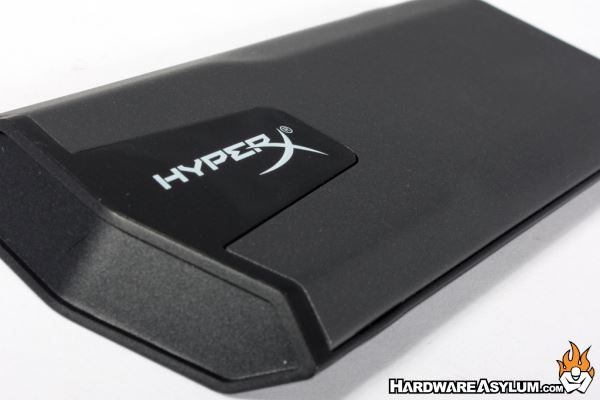 The HyperX Savage EXO is a slim portable storage device powered by an internal M.2 SSD with 3D TLC NAND chips. You can get an EXO in two capacities from 480GB, like the one in this review and, 960GB for those needing a little more in the storage department.
Portable storage devices need to be connected and the EXO features a USB Type-C connection on the device and comes with two different cables to match how you plan to use the drive. One is Type-C to Type-C while the other is a more traditional Type-C to Type-A.
These are specially designed to offer the fastest transfers and measure in at 12 inches each.
As a size comparison I have the HyperX Savage EXO positioned next to a Toshiba portable hard drive. The Toshiba is a standard 2.5" drive with a USB 3.0 interface while the HyperX Savage EXO supports USB 3.1 Gen 2 and will work with just about every system on the market including, PC, Mac, Linux, Xbox One and PS4. You will also get reverse compatibility with older systems including those using USB 2.0.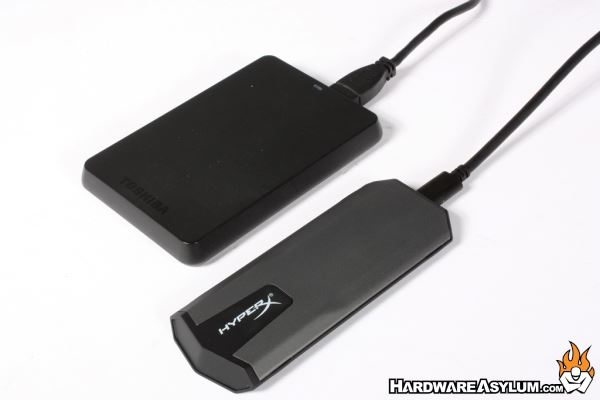 Of course I can talk about the benefits of a portable M.2 SSD over the USB 3.1 Gen 2 interface however, let's see what the benchmarks have to say.