Lexar NM610 500GB NVMe SSD Drive Review
Author:

Dennis Garcia
Published:
Thursday, April 23, 2020

Introduction
For years the storage subsystem in PCs was a huge bottleneck when it came to performance. You could be running 4-Way SLI, LN2 overclocked CPU and still get terrible in-game performance due to how long it took to load levels. There were ways around that including RAID arrays and faster drives but, it was the launch of SSDs that finally increased responsiveness to the point where storage is rarely an issue.
In this review we will be looking at a new M.2 NVMe SSD from Lexar called the NM610. This is the performance NVMe SSD from Lexar using the NVMe 1.3 standard and comes in capacities of 250GB, 500GB and 1TB. While this drive is the fastest in the Lexar lineup the performance is middle of the road with 2100MB/s reads and 1600MB/s writes.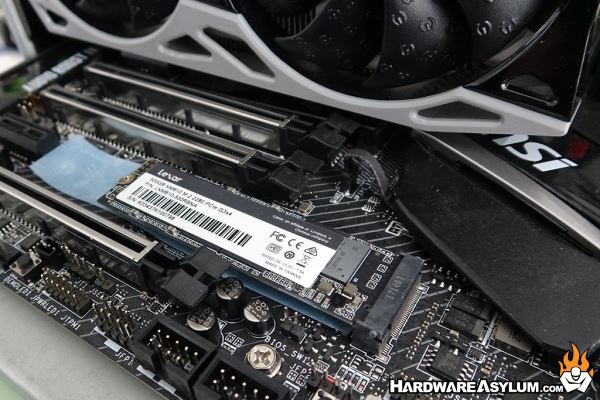 By now most hardware enthusiasts will know about NVMe SSDs and the benefits the NVMe controller brings to flash based storage systems. Prices for NVMe drives have started to come down as more drive types and styles hit the market with performance being the main difference between them.
NVMe or Non-Volatile Memory Express is a SSD specification for drives connected directly to the PCI Express bus. They work much like a standard SSD but take advantage of low latency parallelism of PCI Express and allow the SSD drives to move data extremely fast by splitting the transfer over different paths.
One thing to remember is that NVMe is simply a specification which is being updated all the time to both increase performance and longevity. The interface can offer performance gains but the controller and NAND chips are where the real performance is.
Features
High-speed PCIe Gen3x4 interface: 2100MB/s read and 1600MB/s write –NVMe 1.3 supported
M.2 2280 form factor
Get 3.5x the speed of a SATA-based SSD
Ideal for PC enthusiasts
3D NAND
Features LDPC (Low-Density Parity Check)
Shock and vibration resistant with no moving parts
Three-year limited warranty
Specifications
Capacity: 250GB, 500GB, 1TB
Form Factor: M.2 2280
Interface: PCIe Gen3x4
Speed:
- 250GB sequential read up to 2000MB/s read, sequential write up to 1200MB/s
- IOPS: up to 110/151K
- 500GB sequential read up to 2100MB/s read, sequential write up to1600MB/s1
- IOPS: up to 188/156K
- 1TB sequential read up to 2100MB/s read, sequential write up to1600MB/s1
- IOPS: up to 188/156K
NAND flash: 3D TLC
Operating Temperature: 0° C to 70° C (32°F to 158°F)
Storage Temperature: -40° C to 85° C (-40°F to 185°F)
Shock Resistant: 1500G, duration 0.5ms, Half Sine Wave
Vibration Resistant: 10~2000Hz, 1.5mm, 20G, 1 Oct/min, 30min/axis(X,Y,Z)
BW: 250GB: 125TB, 500GB: 250TB, 1TB: 500TB
DWPD: 250GB: 0.46, 500GB: 0.46, 1TB: 0.46
MTBF: 1,500,000 Hours
Dimension (L x W x H): 80 mm x 22 mm x 2.25 mm / 3.15" x 0.87" x 0.09"
Weight: 9g