Lexar NM710 NVMe SSD Review
Author:

Dennis Garcia
Published:
Wednesday, August 9, 2023

Benchmarks
The System as it was Tested
EVGA Z790 Dark Kingpin – Z790 Chipset
Intel Core i9 13900k (3.0Ghz) Twenty Four Core 8+16 48KB L2 Cache 12+12 x 2MB L3 Cache 36MB
Cooler Master MasterLiquid PL360 Flux
1x nVidia RTX 2080 Super
2x Patriot Viper Venom PC5-6200 DDR5 32GB (40-40-40-77)
Thermaltake Toughpower Grand 1050 Watt PSU
Windows 11 Pro 64bit
Storage Tested
Lexar NM710 1TB Gen4 NVMe SSD
Patriot P300 2TB Gen3 NVMe SSD
Lexar Professional NM800 2TB NVMe SSD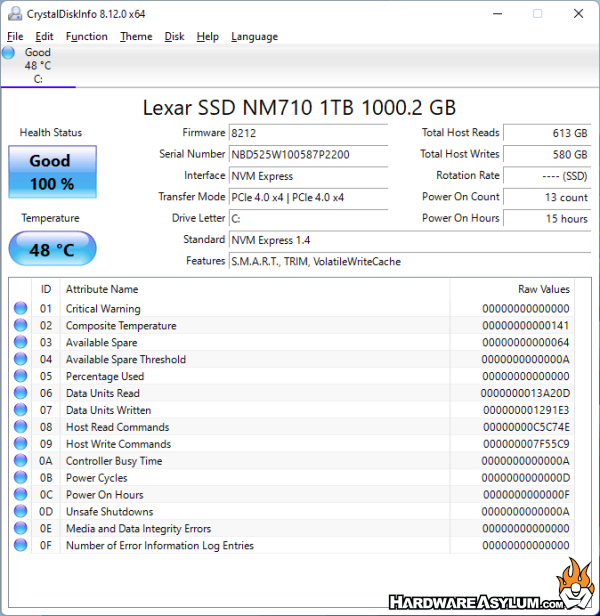 For the benchmarks I choose to give a mix of synthetic and real world tests that are both repeatable and should provide a good basis for comparison. The problem is knowing exactly what people are looking for when choosing a storage solution and if benchmarks really matter. While some sites might go into the timing ticks of the individual NAND chips or latency of the controller I find that to be a little too technical. (says the reviewer who benchmarks CPUs down to the thousands of a second)
Instead, I find that my tests should allow readers to easily verify my results and decide for themselves if this product meets their needs.
SiSoft Sandra
Sandra is a software collection of synthetic benchmarks that will give us a basic idea as to what a system is capable of. It should be noted that SiSoft numbers change depending on what hardware is being tested. These were recorded using Sandra Professional Version 31.115.2021.12

ATTO Disk Benchmark
ATTO Disk Benchmark is a freeware disk benchmarking utility that can test a variety of storage solutions from single hard drives to multi level RAID arrays and solid state disks. The tests can be broken down to transfer sizes between 512B to 64MB with lengths between 64KB and 32GB. Testing results are shown on a transfer chart with reads and writes clearly marked.
For our benchmark the 64MB transfer is being recorded even though the 128k range is often quoted as having the fastest transfer speed (range) of any drive.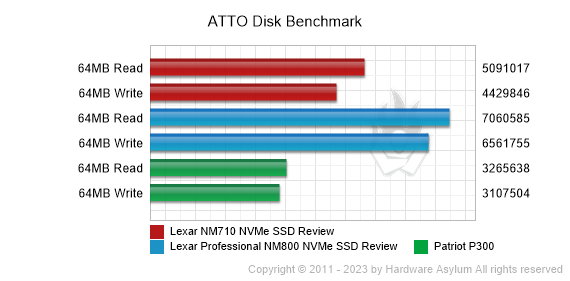 Crystal Disk Mark
Crystal Disk Mark is a widely available disk benchmarking program that can test a variety of different scenarios from Sequential to Random with Multiple and Single queues.
For our tests the Sequential and Random test with multiple queues and threads will be recorded.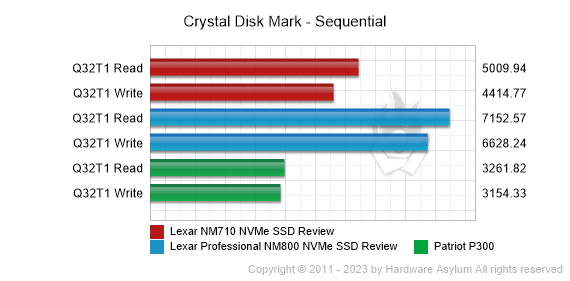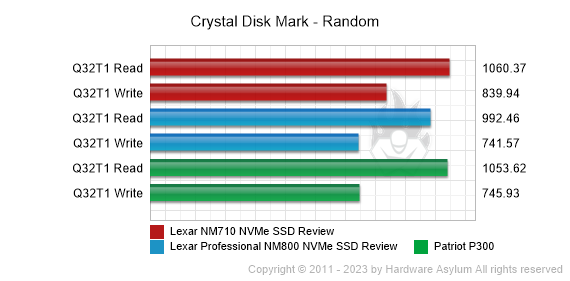 UL PCMark 10
PCMark 10 is an overall system benchmark to measure and compare PC performance using real-world tasks and applications. Similar to 3DMark this new version tests the entire system as a whole using applications that reflect typical PC use in the home and at the office. This approach ensures that PCMark measures the things that matter, highlighting performance differences that will be apparent to end users and consumers.

Benchmark Conclusion
These benchmark results are very interesting for a number of reasons. First of all, both the Lexar NM710 and Patriot P300 were tested on the Z790 platform. The "faster" Lexar NM800 Professional drive was tested on the older Z690 platform and used as a reference. I mix in older results when needed and normally they work out well. On the synthetic benchmarks the performance is what you would expect and the performance results of the Lexar NM710 drive are just as documented.
I mention this because of the PCMark 10 results where you'll see the Patriot drive posting a higher score, despite being a PCI Express Gen3 drive (On a Gen4 platform) and that the NM800 posted a considerably slower score. The major difference here is the processor used and how you can draw conclusions from your processor choice having a bigger impact on overall performance than your choice in NVMe SSD. Both are still plenty fast but, splitting hairs over burst transfer speeds is poor armchair logic