Lexar NM710 NVMe SSD Review
Author:

Dennis Garcia
Published:
Wednesday, August 9, 2023

Conclusion
In this review we looked at the NM710 NVMe SSD from Lexar. As mentioned, this drive is designed to be a budget friendly storage option supporting capacities of 500GB, 1TB and 2TB on a PCI Express Gen4 interface. It is important to note that storage bottlenecks are "mostly" a thing of the past. Some would argue that storage is still the slowest component in your system while I would suggest that the CPU is the single limiting factor in system performance and everything else is relevant based on that.
The advertised speed of the Lexar NM710 is 5000MB/s Read and 4500MB/s Write. Based on our benchmarks those numbers seem to be completely accurate provided that your motherboard supports PCI Express Gen4 and you correctly install the drive into a Gen4 M.2 slot. With our tests I never noticed any thermal throttling or had the drive feel hot with or without the EVGA Z790 Dark monoblock heatsink. Temperature can play a critical role in overall performance and continued write performance so, it is important that devices remain cool when heat is a factor.
Overall, the Lexar NM710 is a great drive with amazing performance when used on a PCI Express Gen4 motherboard. Sadly, there are no ARGB lights and the controller is not a massive speed demon but the advertised performance is spot on. When it comes to real world performance plenty of factors come into play including Motherboard, Memory and Processor making drives like this a smart selection especially, when your build is not running on the bleeding edge of adoption of the highest-level components.
Good Things
Affordable Storage
Great Performance
Available in sizes up to 2TB
Small Form Factor
Perfect "Every System" Upgrade
Bad Things
500GB version suffers from slow writes
Hardware Asylum Rating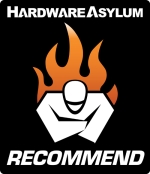 Lexar NM710 NVMe SSD Review
Recommend
https://www.hardwareasylum.com