NexusLink WB-1750-KIT Wireless Gaming Bridge Review
Author:

Dennis Garcia
Published:
Thursday, October 29, 2020

Introduction
Setting up a home network can be a rather confusing task. On one hand it is something you should only have to do once or, maybe twice if you tend to change things around. While on the other hand if you don't configure your network correctly you will be chasing issues for a very long time. The general rule of thumb with networks is to keep things simple, the more layers and devices you have the more complex the setup and the higher chance that you'll run into issues.
In this review I'll be looking at a new product from NexusLink called the WB-1750-KIT. This is a high speed wireless bridge designed for gaming and is designed to provide a high speed point to point connection between devices that doesn't suffer from normal latency issues. These connection issues might be due to distance from the router, obstructions that impede the signal or busy locations with multiple hotspots. By using a point to point bridge you get a dedicated signal that is backed by a cable connection on each end giving you the best chance for low latency data transmission.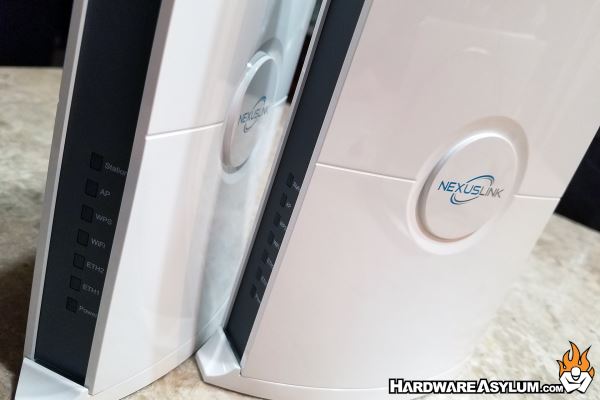 Key Features
OPTIMIZED FOR ONLINE GAMING & STREAMING - Minimizes lag time, interference, and dropped frames using the industry's highest performance Quantenna chipset with 802.11ac Wave 2 technology. It's equipped with High-Speed AC1750 Wifi, as well as advanced technologies like MU-MIMO, smart channel switching schemes, gaming-centric QoS, and more.
NO INTERRUPTIONS FROM HOUSEHOLD TRAFFIC - Enjoy a private connection on your own dedicated 5GHz band. Having your own personal connection effectively eliminates lag and dropped frames caused by local bandwidth-intensive activities such as online video streaming and video conferencing.
ETHERNET STABILITY WITH THE EASE OF WIRELESS - Easily delivers Ethernet Stability over a Private Point-to-Point LAN for a powerful connection that penetrates walls and other building materials.
EXTEND WIFI TO HARD-TO-REACH LOCATIONS - Utilizes 400mW High Power AC-1750 and MU-MIMO technology to deliver superior wireless connectivity to hard-to-reach locations.
Reduces latency with MU-MIMO
Reaches higher speeds with wireless AC1750
Delivers greater performance with a dedicated 5GHz band, effectively eliminating lag and dropped frames caused by other data-hogging devices. This becomes your private "Gaming Express Lane"
"Private Point-to-Point LAN" delivers concentrated Wireless to hard-to-reach rooms. It penetrates through walls and other building materials for an optimized connection and improved range.
Increased web traffic from Remote Working, Remote Learning, and Streaming/Gaming habits due to COVID.
Fast & Easy Setup -Within minutes, experience premium gaming or streaming anywhere in the home.
Price $149.99
Specifications
2x Wireless Gaming Bridges
2x RJ-45 Gigabit Ethernet Ports
4x Internal MIMO Antennas
802.11a/n/ac
4 Streams in 4x4 configuration
Up to 1733Mbps PHY rate
Advanced MIMO features STBC and channel state aware link management for sustained link robustness
Two ARC-based network processors with hardware assist to manage multiple simultaneous connections
UM-MIMO supported
Expanded support for 128 users
LDPC support