NexusLink WB-1750-KIT Wireless Gaming Bridge Review
Author:

Dennis Garcia
Published:
Thursday, October 29, 2020

NexusLink Layout and Features
The NexusLink 1750 devices are very compact with an elegant style. They are designed to sit vertically on a solid surface and should blend in with any decor. Unfortunately there is no way to mount the NexusLink to the wall but in my opinion they are small enough that it shouldn't matter.
NexusLink offers the WB-1750 as a kit with two devices each. This allows you to make a complete point to point connection between two networks. One device will act as an Access Point(AP) while the second is the remote Station.
Both devices are identical in configuration and feature the following.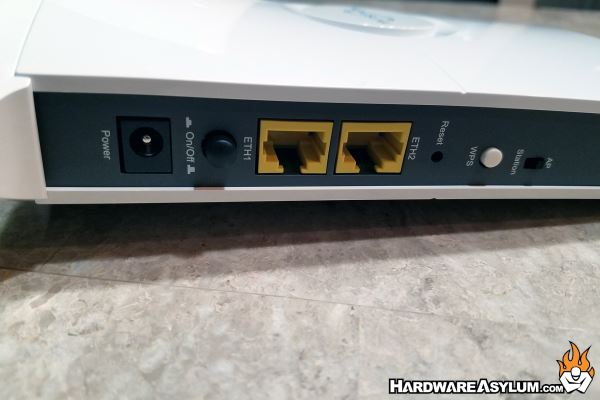 AP to Station Selector Switch
WPS Configuration Button
Reset Button
Two Ethernet Connections
Power Switch
Power connection
Installation
The installation could not be simpler.
First make sure one device is set to AP mode by moving the selector switch up. By default the device marked as #1 will have this set already. You'll connect this device to your modem, router or network switch that has network access and power on the device.
Next you'll take the second device and hook it into the remote system needing network access. Make sure it is configured to "Station" by moving the selector switch down and power on the device.
Finally press the WPS button on each device and wait for the WPS activity light to be solid. At that point both devices are connected and ready to use.
What I find to be great about these devices is that in addition to the high-speed bridge they both have two Ethernet connections each and can support a total of four connections. On the AP side you have a network connection and a PC or Game console while on the other side you can support up to two devices directly from the WB-1750 Station.
Bridge Uses
The WB-1750 is intended to be a high speed wireless point to point connection that allows remote gaming systems to get fast low latency internet like if they were hooked directly in using an Ethernet cable. However, with most networking hardware there is more than one way to hook things up.
This first is the recommended scenario and would be typical of a gaming situation where you have a gaming system in a back bedroom and need to get Internet access from somewhere else. You can connect these devices over WiFi but due to the distance or interference the connection is poor and latency is high.
For this you can setup the bridge and enjoy high speed low latency gaming.
An alternative solution is connecting two remote networks together. The scenario here is the same but the remote networks might be a home theater or game room where you have multiple TV's, Gaming consoles and computers. The modem is located across the house and might already have a number of devices connected already. WiFi in this situation is generally slow due to the amount of data going over the air and number of devices using it.
In this situation you could use the WB-1750 to make the point to point connection between the two rooms and instead of using the station for a single device you connect it to a switch and allow all of the devices to connect at the same time. This reduces the number of WiFi devices and ensures high speed data at both ends.