NexusLink WB-1750-KIT Wireless Gaming Bridge Review
Author:

Dennis Garcia
Published:
Thursday, October 29, 2020

Testing and Conclusion
Testing network hardware can be difficult at best. Typical tests like throughput are subjective due to the equipment used at each end, basically slow servers mean slow data transfer and no matter how fast your local network is you are limited by to internet connection.
So, for this review I decided to keep things simple and tackle a real world example.
Here is the situation.
Family moves into a new house and were not lucky enough to have it wired for Ethernet. Not a big deal since WiFi should cover the entire property and start setting up a WiFi network but, only the game consoles and Alexa devices had WiFi support leaving the two gaming PCs without internet.
Of course one PC could be hooked directly to the router but, the other was located down the hall and too far away for a cable. The owner decided they would use a Netgear WiFi extender thinking that would provide an Ethernet connection to the second PC.
The issue was that PC was getting horrid latency issues.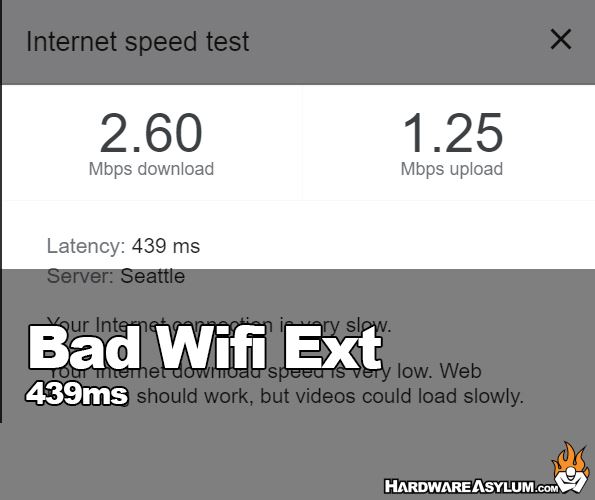 This is where the NexusLink WB-1760 Kit comes into play. We first removed the Netgear extender and hooked up the Station to the second PC. Then we hooked up the AP to the router and pressed the WPS buttons. Literally 20 seconds later the two WB-1750 devices were linked and a speed test confirmed that the connection was made.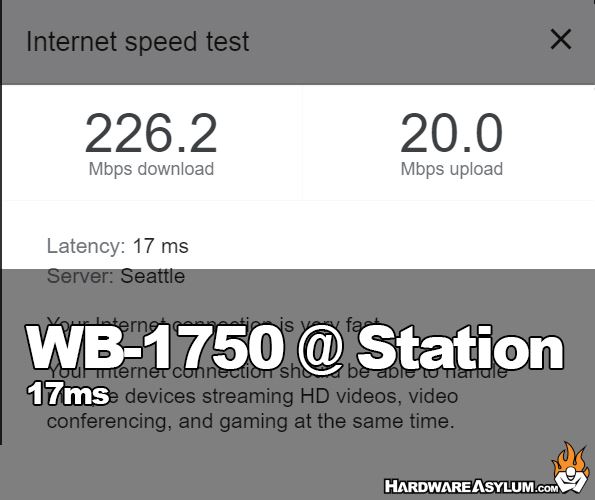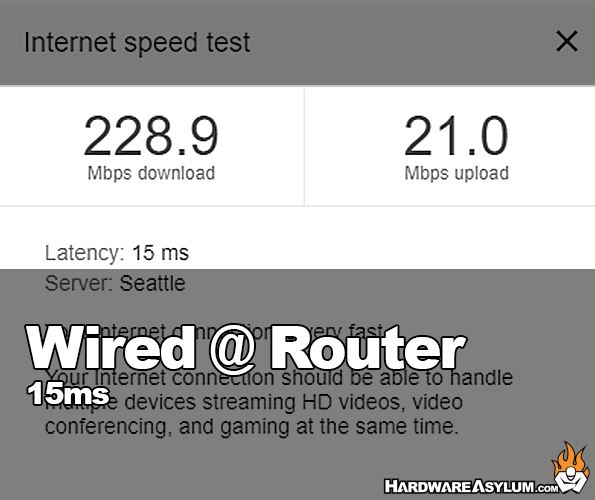 The speed test was a night and day difference and fully replaced the need to run an Ethernet cable between the two rooms.
Conclusion
Overall I found the NexusLink WB-1750 devices to work extremely well and the list of specifications is extremely impressive. Personally I like how you can hook two devices up to each station and makes them unique in this networking space. Not only do you get a high speed link but can easily expand without additional networking hardware.
I also find it smart that the WB-1750 is dedicated to the 5Ghz A/N/AC band which not only removes it from the slower and more saturated 2.4Ghz spectrum but gives you up to 4 streams to increase the throughput while operating at a higher frequency. This will increase range and is less susceptible to obstructions.
With me being a rather experienced person when it comes to setting up networks I've never liked the magical "WPS" button. On older devices these were recipe for disaster and often lead to mis-configurations. Personally I like to see how things are being connected and monitor them working. I was not able to locate any web interface to the WB-1750 devices so it was difficult to monitor the traffic and for most, if not all, users this will be a moot point especially considering that the devices just worked. Simply press the WPS configuration button and wait a few seconds and you are done.
Ideally this will be how you add additional stations if you wish to expand your network with more point-to-point connections.
Look for the NexusLink High-Speed Gaming Bridge devices on Amazon and check out the NexusLink website for more information on the NexusLink WB-1750-KIT and their other product offerings.