Patriot Supersonic Rage Pro USB 3.2 Gen 1 USB Drive Review
Author:

Dennis Garcia
Published:
Thursday, May 13, 2021

Conclusion
One of the biggest questions I get when it comes to portable storage is "what drive should I get?" which is a valid question with a number of answers. Flash drives are everywhere and their size and price can be really appeal to the modern consumer. However, as our benchmarks have shown a "typical" flash drive might be pretty good at reading data but HORRIBLE when it comes to writes. One of the reasons for getting a flash drive is to move data from one place to another making the writing of data just as important as reading it.
In this review we looked at the Patriot Supersonic Rage Pro 512GB which is more than your standard flash drive. The drive supports UASP which is just a fancy way of saying USB Attached SCSI and supports faster transfers over USB. While the terms might be new there have been drives supporting this protocol for years including the HyperX EXO featured as a reference in our benchmarks. This early drive featured a M.2 drive in an external housing and looked like a SATA drive when attached to a supporting system.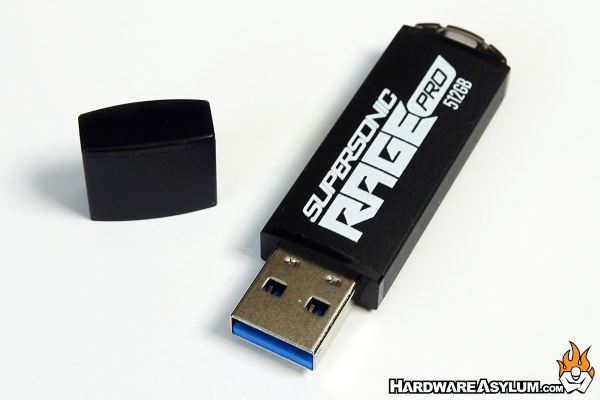 The Supersonic Rage Pro is quite similar. This drive is also seen as a SATA drive by Windows but features a much smaller form factor while offering similar performance making it a suitable for more than just storing family photos. The enhanced write speed is perfect for transferring large files while also offering amazing random read and write performance so you can view and edit those videos without needing to make a local copy.
Available in a variety of sizes and featuring a solid aluminum housing the Supersonic Rage Pro might be a perfect solution for the creative professional on the go.
Good Things
Good Read Performance
Decent Write Performance
Seen as a UASP drive in Windows 10
Activity Light
Aluminum Shell
Bad Things
Write performance could be better
Cap doesn't attach to the other end of the drive