Patriot EP Series High Endurance MicroSDXC Review
Author:

Dennis Garcia
Published:
Thursday, February 18, 2021

Introduction
One of the original problems with flash memory cards was that they were rather fragile. Some early cards were thin and flexible like a floppy disk and would break if they were bent and many didn't respond well to extreme temperatures. Leave your digital camera in the sun and the memory card might fry. As the technology improved so did the card designs. The thin plastic versions were replaced with PCB based cards that were not only stronger but started to hold more data.
In this review we will be looking at one of the newest memory cards from Patriot, the EP Series High Endurance MicroSDXC. As the name suggests this is a Micro SDXC memory card that has been designed specifically for durability and critical systems where maximum endurance is required.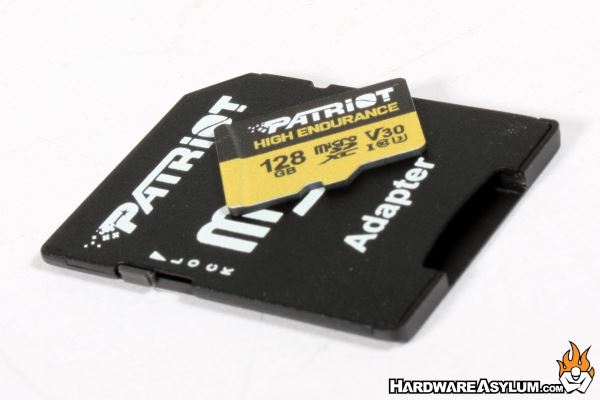 Flash memory solutions are typically segmented into two basic groups, Retail and Enterprise. Retail focused products are designed to deliver high speed while paying special attention to making the solution affordable. The downside is that they wear out quicker and may not handle abuse very well. Enterprise flash solutions are a polar opposite where cost is not the primary concern provided, they can deliver stable performance for an extremely long time.
While the two products may look the same the architecture to build each solution is completely different. The Patriot EP High Endurance Series is an Enterprise grade memory card that is designed to deliver extremely long life while remaining water proof, shock proof stability while operating in extreme environments from -40C to 85C
Features
Patriot Part Number: PEF128GE31MCH
SDA 6.X/ 5.X/ 3.0
Video speed class : C10/V10/V30
Read Speed up to 95MB/s
4K Video recording supported
Wide temp supported: -40C to 85C
Water proof
Shock proof
High and low temperature cycle work
Enterprise grade endurance
TBW: 192TB
SD Adapter included
The card featured in this review comes with a capacity of 128GB and features a standard SD Card adaptor allowing you to use the card in a variety of different devices.
Typical Usage
On the surface a memory card is a memory card and when used in consumer grade electronics this might be perfect. However, in certain situations a normal memory card might not deliver the reliability you need. A good example might be a security camera that does local backups and is exposed to the elements. These cameras are subjected to temperature extremes and are consistently writing to the flash card and can wear them out quickly. Another instance might be a dash cam, these are always recording and the only time you look at the footage is when there is a problem and there will be a much larger problem if the card fails.