SilverStone MS12 SuperSpeed+ USB 3.2 Type-C to NVMe M.2 SSD Enclosure Review
Author:

Dennis Garcia
Published:
Wednesday, May 19, 2021

Introduction
One of the items I was frequently offered when I first started doing product reviews was external drive enclosures. You rarely see those today but, back then flash memory wasn't really a thing and one of the most convenient way to move large files around was on a hard drive and thus, the external drive enclosure was born. While external drive enclosures are rare you can still find them today and serve mostly as backup storage solutions for home computers.
In this review we will be looking at the SilverStone MS12. This is a SuperSpeed+ USB 3.2 drive enclosure for NVMe based M.2 SSD drives. It comes with a USB Type-C connection and supports a 20Gbps transfer rate. Given that this is a drive enclosure and not a storage drive you will need to supply your own drive which will have a profound impact on overall performance of the drive.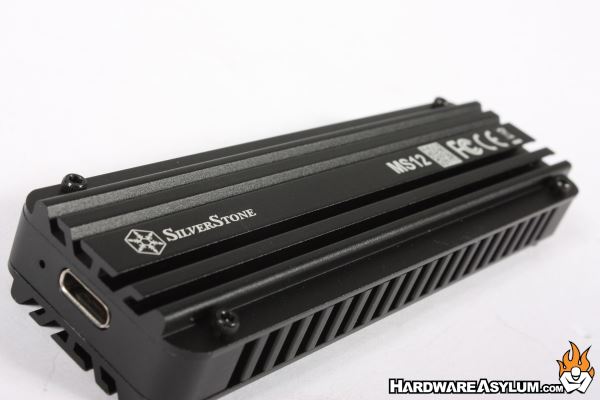 Key Features
Latest USB 3.2 Gen2x2 Type-C interface up to 20Gbps SuperSpeed+ transfer rate
Support various lengths of M.2 SSD (22x42mm, 22x60mm, 22x80mm)
Support BOT and UAS Protocol
Support TRIM command set
Support NVMe: SCSI Translation Reference Rev. 1.5
Support NVMe Error Reporting & Recovery
S.M.A.R.T drive monitoring
Compliant with PCI Express Base Specification Rev. 3.1a
Compliant with NVM Express Base Specification Rev. 1.3c
Aluminum alloy case and built-in thermal pad
One of the most striking features of the MS12 is the case. This is a full aluminum chassis that features cooling fins that not only frame the drive but help to make it stronger. Granted a small block of aluminum is pretty strong but other drives of this type are very thin by comparison.
With the drive you get a USB Type-C extension cable, small allen head screwdriver, replacement screws and thermal pads.
To install your NVMe drive you'll need to remove the four screws holding the panel in place. This exposes the drive controller inside along with the integrated thermal pad.
I removed the controller card completely to install the drive. Unlike on a motherboard there is no screw to hold the drive down. Instead, you are given a brass barrel that attaches to the notch in the M.2 drive which is then screwed down to the PCB. This allows the drive enclosure to support a variety of different drive lengths without excessive rework to move the mounting post.
Make sure the drive is completely seated and reassemble the drive enclosure.
SiSoft Sandra

Crystal Disk Mark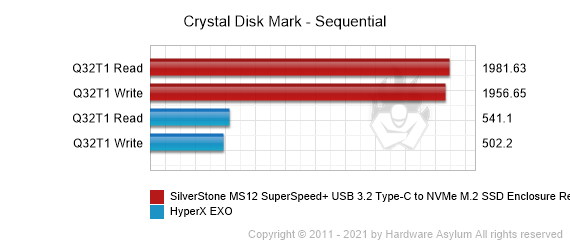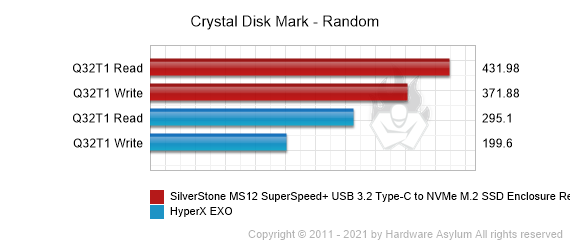 While the need for portable hard drives has diminished there is still some demand for high-speed external storage. Normal flash-based USB drives offer fast reads but a horrid when it comes to saving data. This might be ok for small files but when you need to move a bunch of data it can take hours. External hard drives often lack USAP support and is why the MS12 from SilverStone is such a good product.
Out of the box the enclosure looks amazing. The integrated cooling fins work with the overall design offering superior cooling without compromising usability. Form factor is not bad making the drive small enough to carry and yet not so small that you lose it. In terms of weight, the MS12 has some "heft" weighing in at 53g (unloaded) showing that the aluminum heatsink more than a great looking decoration.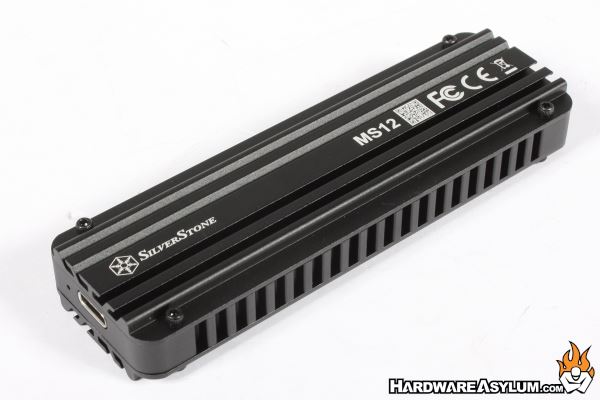 The enclosure features the ASMedia ASM2364 controller allowing the NVMe SSD to communicate with USB 3.2 SuperSpeed+ devices and while my drive did not attain the 20Gbps transfer rate it was respectable and considerably faster than any other USB drive I have tested to date.
Overall, I am glad that drive enclosures are making a comeback. The USB 3.2 SuperSpeed interface might offer extremely fast transfers but the Flash based USB drives that are available are leaving too much on the table. External enclosures like the Silverstone MS12 offer a way to take advantage of SuperSpeed USB interface while giving users a way to backup and securely transfer files at speeds that can match onboard storage solutions.
Hardware Asylum Rating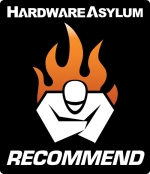 SilverStone MS12 SuperSpeed+ USB 3.2 Type-C to NVMe M.2 SSD Enclosure Review
Recommend
https://www.hardwareasylum.com