Patriot Viper VP4300 PCI Express 4.0 NVMe M.2 SSD Review
Author:

Dennis Garcia
Published:
Friday, August 6, 2021

Introduction
When it comes to storage there are two factors to consider. The first is overall capacity with a preference for bigger numbers mostly out of convenience. The second is rather generic and comes down to speed which can be the speed of the chips, the interface or both. For instance, SATA drives are quite fast but, slow when compared to PCI Express based storage. PCI Express based SSDs can either be SATA based or NVMe based depending on the controller and if you go NVMe you will want either a U.2 or M.2 interface. If these seem confusing you are not alone and is one reason why amateur system builders continually resort to SATA based drives because they are easy to understand.
In this review we will be looking at the Patriot Viper VP4300 NVMe M.2 SSD. NVMe drives are the premiere storage solution for SSDs as the interface is designed to take advantage of the speed benefits of solid state storage solutions. Yet, the VP4300 is a little special and is designed to maximize performance on PCI Express 4.0 based systems offering higher transfer rates, lower latency and reverse compatibility with older systems.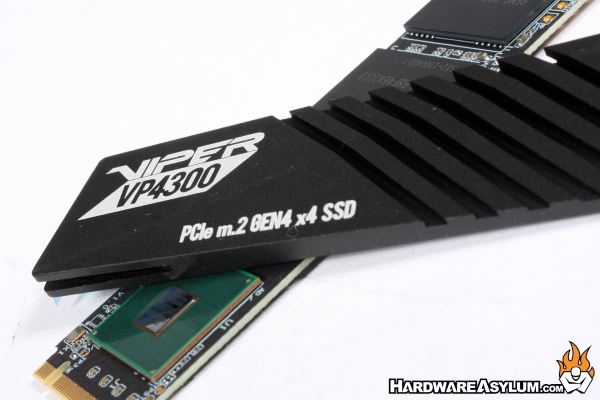 As with all M.2 devices they have a dedicated 4 Lane PCI Express interface allowing them direct access to the subsystem. When combined with the speed benefits of PCI Express the VP4300 features read speeds up to 7400MB/s and writes up to 6800MB/s. With capacities up to 2TB there will be little need for secondary storage and the 2000TB (TBW) lifetime ensures that the drive will likely last longer than your build.
Features
Read Speeds: 7400MB/s – Write Speeds 6800MB/s
Built with the latest Innogrit IG5236 Gen4 x 4
high-speed controller
Capacities: Up to 2TB
Two optional heatshields included:
Aluminum heatshield & Graphene heatshield
Thermal throttling technology
Operating Temperature: 0 ~ 70°C
Terrabytes Written (TBW): up to 2000TB
4K Aligned Random Read: up to 800K IOPs
4K Aligned Random Write: up to 800K IOPs
Sequential Read (ATTO): up to 7,400MB/s
Sequential Write (ATTO): up to 6,800MB/s
Sequential Read (CDM): up to 7,400MB/s
Sequential Write (CDM): up to 6,800MB/s
O/S Supported: Windows® 7*/8.0*/8.1/10