Patriot Viper VPR400 Gen4 NVMe M.2 SSD Review
Author:

Dennis Garcia
Published:
Saturday, July 16, 2022

Benchmark Configuration
The System as it was Tested
ASUS STRIX Z690-E Gaming WiFi – Z690 Chipset
Intel Core i7 12700k (3.2Ghz) Sixteen Core 12+12 32KB L2 Cache 9+9 x 1.25MB L3 Cache 25MB
Thermaltake Water 2.0 Extreme
1x nVidia RTX 2080 Super
2x Crucial PC5-4800 16GB DDR5 (40-39-39-76)
HP dvd1260i Multiformat 24x Writer
Thermaltake Toughpower Grand 1050 Watt PSU
Windows 11 Pro 64bit
Storage Tested
Patriot Viper VPR400 1TB SSD
Reference Storage
Patriot Viper VP4300
Lexar NM610 500GB SSD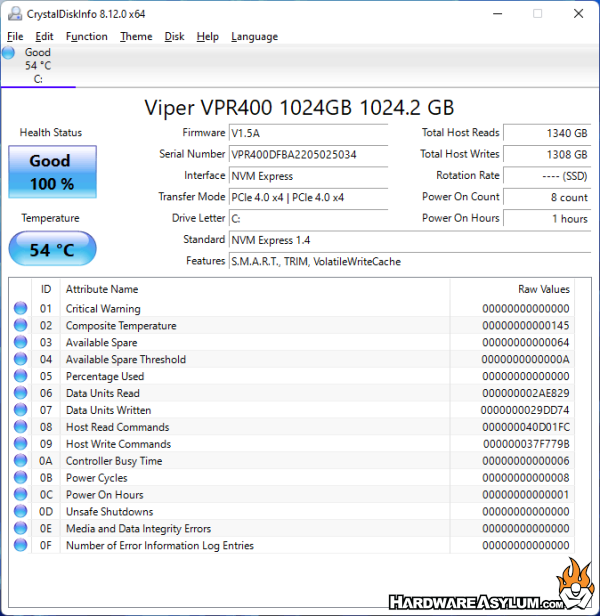 For the benchmarks I choose to give a mix of synthetic and real world tests that are both repeatable and should provide a good basis for comparison. The problem is knowing exactly what people are looking for when choosing a storage solution and if benchmarks really matter. While some sites might go into the timing ticks of the individual NAND chips or latency of the controller I find that to be a little too technical. (says the reviewer who benchmarks CPUs down to the thousands of a second)
Instead I find that my tests should allow readers to easily verify my results and decide for themselves if this product meets their needs.