Patriot Viper VPR400 Gen4 NVMe M.2 SSD Review
Author:

Dennis Garcia
Published:
Saturday, July 16, 2022

Benchmarks
SiSoft Sandra
Sandra is a software collection of synthetic benchmarks that will give us a basic idea as to what a system is capable of. It should be noted that SiSoft numbers change depending on what hardware is being tested. These were recorded using Sandra Professional Version 31.81.2021.12

Crystal Disk Mark
Crystal Disk Mark is a widely available disk benchmarking program that can test a variety of different scenarios from Sequential to Random with Multiple and Single queues.
For our tests the Sequential and Random test with multiple queues and threads will be recorded.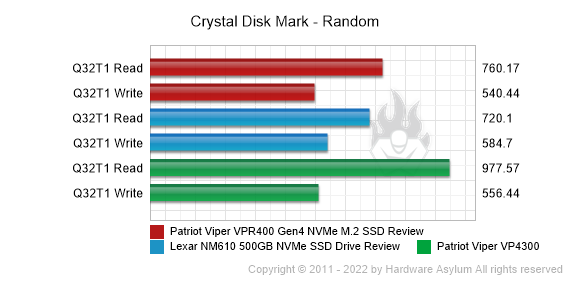 UL PCMark 10
PCMark 10 is an overall system benchmark to measure and compare PC performance using real-world tasks and applications. Similar to 3DMark this new version tests the entire system as a whole using applications that reflect typical PC use in the home and at the office. This approach ensures that PCMark measures the things that matter, highlighting performance differences that will be apparent to end users and consumers.

BAPCo SYSmark 25
SYSmark 25 is an application-based benchmark that reflects usage patterns of business users in the areas of Productivity, Creativity and Responsiveness. The new Productivity Scenario has updated workloads and applications geared towards office centric user activities. The new Creativity Scenario features updated workloads and applications geared toward media-centric user activities. The new Responsiveness Scenario models 'pain points' in the user experience. These common activities that include: application launches, file launches, web browsing with multiple tabs, multi-tasking, and background application installation.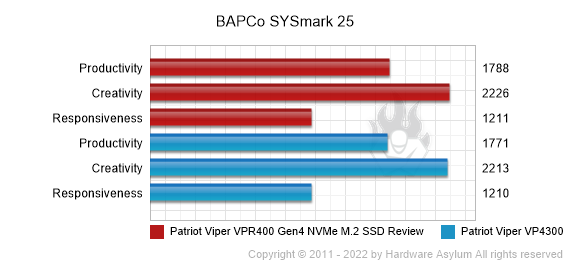 Benchmark Conclusion
These benchmarks show an interesting cross section and illustrate just how closely matched many NVMe drives can be. Across the board the Viper Gaming VPR400 trades punches with the Viper Gaming 4300 with some benchmarks favoring the VPR400 while others benefit from the faster VP4300.
The Lexar NM610 is at a distinct disadvantage in this lineup due to the drive being limited to PCI Express 3.0 speeds and was included to remind my readers that while certain components will operate in your build they might not always be the best choice.