Patriot Viper VPR400 Gen4 NVMe M.2 SSD Review
Author:

Dennis Garcia
Published:
Saturday, July 16, 2022

Conclusion
In this review we took a look at the new Patriot Viper Gaming VPR400 NVMe based M.2 SSD. This drive supports PCI Express 4.0 and happens to be one of the fastest drives you can get from Viper Gaming. In addition to the overall performance the drive also features an integrated heatspreader and onboard RGB lights that can be controlled by any of the major RGB lighting systems or with the Patriot RGB Sync App.
The Patriot RGB Sync software is extremely simple offering eight different lighting profiles including "Dark" to turn off the rgb lights, Breathing, Viper, Heartbeat, Marquee, Raindrop, Aurora and Neon.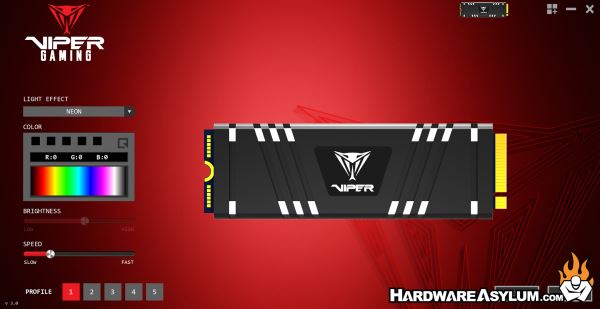 You are allowed to control the individual colors, speed and brightness allowing users the option to customize the RGB lights in the event the motherboard does not have an onboard RGB controller. While the RGB Sync app is easy to use I also recognize that Patriot didn't spend too much time on the software. The app opens to fill 80% of the screen without an option to resize the window and the minimal options speak to this software being the exception and not the intended way to control RGB lights on the drive.
The Overall advertised speed is respectable at 4600MB/s Reads and 4400MB/s writes. As the benchmarks indicate the Viper VPR400 can deliver more performance with our sample regularly transferring at the 6000MB/s range and matching that of the Viper VP4300 drive we used as a reference.
Keep in mind that transfer rates featured in this review will likely degrade over time and might be the result of "optimistic" components used on the drive. This is not uncommon and would indicate that the advertised speeds will likely become the minimum to expect over what you might actually get.
It should be noted that the Viper VPR4000 does come with an integrated heatsink designed to keep the drive cool under the heaviest of loads. Unfortunately, the heatsink is glued to the drive with no indication that it can be reattached once removed. This, in itself, can be a good thing, and a bad thing.
On the good side, this drive will work perfectly on lower end motherboards that do not provide a dedicated M.2 heatsink. The attached cooler will ensure that the drive stays cool without impacting performance or fitment.
On the bad side, if you want to use this drive on systems with integrated M.2 cooling solutions you will either need to remove the included heatsink or not use the motherboard provided thermal solution.
Overall, the Viper VPR400 drive offered amazing out of box performance with tested speeds exceeding the advertised maximums. The onboard RGB lights are a welcome addition and provide a little extra flare to systems that could benefit from more RGB light. Of course the RGB lighting is contingent on if you leave the drive exposed or hide it under a motherboard supplied M.2 thermal solution.
Good Things
Great Performance
Small Form Factor
Super Fast NVMe
Available in Sizes up to 1TB
Comes with a Great Heatsink
Super Bright RGB Lights
Perfect Low-End System Upgrade
Bad Things
Heatsink is attached at the factory