CyberPowerPC Zeus Mini System Review
Author:

Dennis Garcia
Published:
Monday, March 10, 2014

System Layout and Features
As was mentioned before CyberPowerPC actually designed the Zeus Mini chassis themselves and as you can see from our photos the case is extremely compact. The chassis measures 17.5 inches deep by 13 inches tall by 4.5 inches wide. That works out to be 0.6 cubic feet or 17 liters if you happen to like that comparison better.
The Zeus Mini is designed to stand vertically with the power button on top and CyberPowerPC logo at the bottom. You'll find a slim optical DVD burner in the upper right which is also orientated vertical to fit the form factor.
There are no provisions for a side window however the special venting is color matched to the system build. Red is for AMD based systems while Green is for Intel/NVIDIA. These colors can be changed in the system configurator or custom painted after you get the system home.
Along the side closest to the DVD drive you'll find two USB ports along with front mounted headphone and microphone jacks. The two USB ports are not the same color and actually support both USB speed standards. In case you didn't know the blue port is USB 3.0 and given that some devices are not compatible with USB 3.0 you can use the USB 2.0 port shown in black.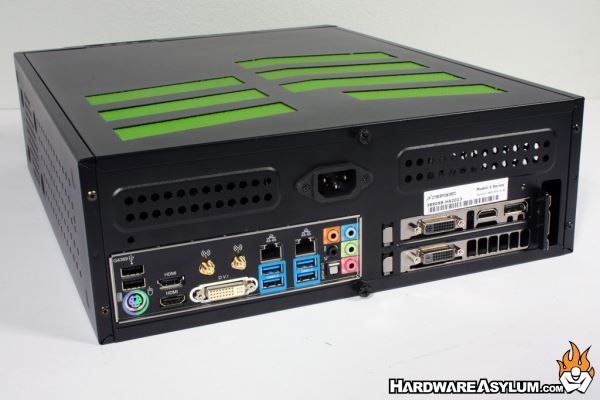 Our review system came with the Gigabyte Z87N-Wifi MiniTIX motherboard which is jam packed with onboard features. The most prominent is the inclusion of 802.11n support and Bluetooth which is important as this gives our Zeus Mini the ability to access wireless networks without any additional dongles.
Other features of this motherboard include dual Gigabit Ethernet, 4x USB 3.0, digital 8 channel audio, dual port HDMI and single DVI.